#MdBears2017 — Maryland's 14th bear season will take place Oct. 23-26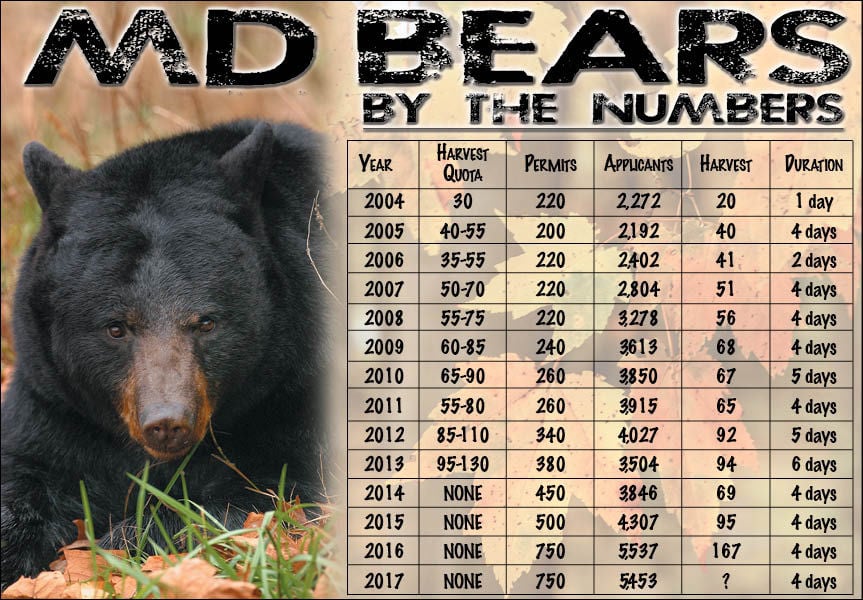 If a little kid can point an index finger, say "bang, bang" and pretend he is shooting, I can look at the shape of Maryland and see a firearm.
It's a pistol. See it?
The Eastern Shore is the grip and Southern Maryland is the trigger. 
The Mason-Dixon Line, the flat part that Maryland shares with Pennsylvania as a border, is the handgun's sighting plane.
The barrel starts at Washington County and points westward.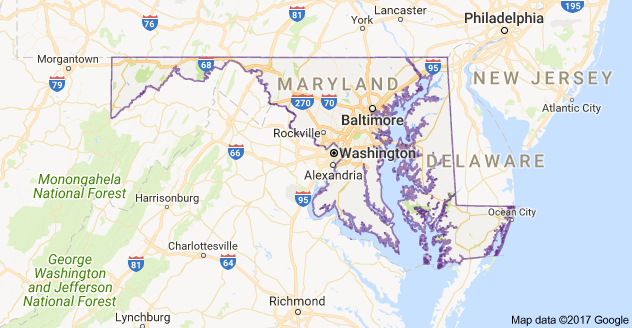 The real business end of this symbolic sidearm is in what I call Almost Maryland, Allegany and Garrett counties.
The more politically correct among us refer to this neck of the state as Mountain Maryland, which plays better on tourist brochures than does the moniker I coined.
Anyway, don't worry, those of you in Preston County, West Virginia, this handgun that is pointed at you isn't loaded. It's imaginary.
What is not imaginary, of course, is the firing of guns that will take place Oct. 23-26 in the state's four western counties as Maryland's 14th bear hunting season takes place.
Following slightly more than a half-century bear hunting moratorium, Marylanders were allowed to shoot bruins again in 2004.
The hunt didn't last long, one day in fact. Twenty bears were checked in and the hunt was shut down for the year.
Here is an Associated Press brief that ran during the day and before the hunt was ended:
The state had its first authorized bear hunt in 51 years, and the first bear registered was a small one: an 84-pound female less than a year old. The Department of Natural Resources said five bears had been killed so far in a hunt in northwestern Maryland that is to last six days. It estimates that 500 bears live in the state, and said the hunt was meant to manage the population. Animal-welfare advocates called the program a "trophy hunt."
In August 2004, two months before the first hunt, this appeared in The Washington Times:
McHENRY, Md. — What Daniel Boone is to Kentucky and Davy Crockett to Tennessee, Meshach Browning is to Western Maryland: an early-American frontiersman mythologized by outsized tales of his rugged exploits.
Browning wrote his legend himself. His 1859 autobiography, "Forty-four Years of the Life of a Hunter," recounts in grisly detail many of his battles with the nearly 400 bears, 2,000 deer and scores of panthers, wolves, wildcats and rattlesnakes he claims to have killed.
His favorite quarry was black bears — of all sizes, in all seasons. He stalked them with dogs, trapped them in pits, shot them, stabbed them and even boxed with one for sport before dispatching it with a single thrust of his knife.
Then he ate them.
"Bear meat is considered a delicacy by those accustomed to it, and the hunter always deems it a prize worthy of much effort to obtain," Browning wrote.
Those were wild times that included lawsuits and full-page newspaper ads from anti-hunting groups that were attempting to keep the hunt from taking place.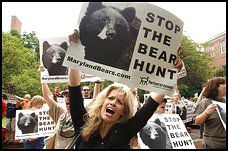 Some people even dressed up in bear costumes to make their points.
This is from a July 2004 edition of the Washington Post:
About 200 protesters -- clutching teddy bears and black bear posters -- shouted in a galloping chant that echoed in the State House courtyard: "STOP the TRO-phy hunt! STOP the TRO-phy hunt!"
Well, the hunt wasn't stopped. In fact, it continues in a very orderly fashion and has been a useful tool in reducing damaged automobiles and injured occupants, raids on chicken coops, raids on cherry pies that sit on window sills and even home invasions.
And, although damage by bears to agricultural crops continues, the bears that have been killed by hunters no longer chew.
Bear hunting permits are limited and allocated via a lottery. This year there are 750, as there were a year ago. Because the permits are difficult to get, each season brings with it many folks who are hunting bears in Maryland for the first time.
Some of the larger bears taken since 2004 have fallen to young hunters.
During the 2004 hunt, Eric Andrews, then 16, of Lonaconing, set a weight record when he dropped a 496 pounder.
Paul Peditto is the director of the Maryland Wildlife & Heritage Service, the state agency that manages bears.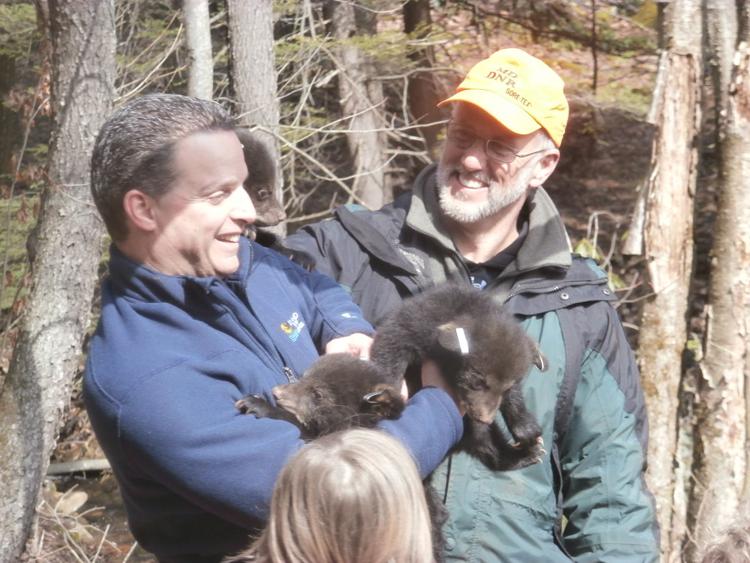 This is from an article I wrote in 2013:
Asked to recall one highlight from a decade of Maryland bear hunting, a contentious subject in its early years, Peditto didn't hesitate.
"Sierra Stiles," Peditto said, referring to the Kitzmiller lass who was 8 in 2005 when she shot a 211-pound bear 30 minutes after the season began.
Animal rights groups had objected to the hunt and Stiles' success at her tender age rapidly spread that indignation.
"Sierra was articulate and passionate about hunting," Peditto said. "She was strong." Stories about Stiles and her bear went international.   
"Reuters, Los Angeles Times, BBC, you name it," Peditto said. "If the hunter had been a 27-year-old man, nothing would have been said."
And then there is the 615-pound bear. It was a state record when Coty Jones, an Eastern Shore resident, killed it in 2007 and remains a state record today.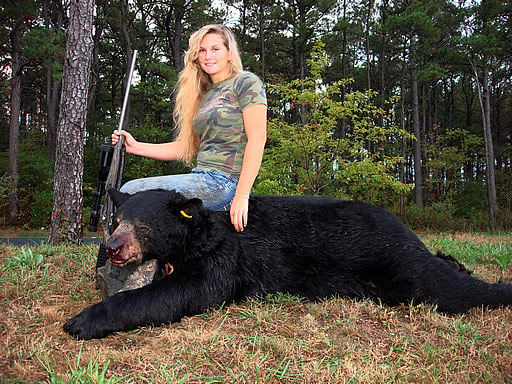 Bear hunters in Maryland have never been restricted when it comes to shooting a bear. If it is a bear, it is legal game. Size and gender don't matter.
That upsets some folks. The same people who decried the hunt, calling it a trophy affair, wailed just as loudly when a young-of-the-year bear was checked in.
WHS has never apologized for that approach to hunting, and it shouldn't. Little bears become big bears and do all the things bears do when they are just being bears.
Sometimes they attack other living creatures.
This is from an article I wrote in September 2015 about Manny, Brian Powell's black Labrador retriever that got attacked in the backyard by a bear in Rawlings:
"He looked like a murder scene," Powell said. "Blood was gushing everywhere. I tossed him in the truck, told Allison to call the vet and tell him I was on my way."
During the 2016 hunt, a record number of bears, 167, were harvested. And, according to an unofficial count maintained by the Cumberland Times-News, another 76 bears died on the state's highways throughout that year.
A lot of things have changed during the 13 bear seasons that have taken place:
• The hunting area has expanded from all of Garrett and part of Allegany counties to the four western counties.
• Hunters and subpermitees no longer have to stay in visual contact.
• A harvest quota used to be established, but now the hunt lasts for four days no matter the level of kill.
• First-time Maryland bruin hunters used to be required to attend what I called Bear School, an instructional session that took place the day before the hunt started. That is no longer the case.
• This season, for the first time, some farmers who have severe crop damage caused by bears will receive hunting permits to be used on their properties.

The hunts have taken place in all kinds of weather, from hot and sunny to cold and snowy. Long range weather forecasts for Grantsville in Garrett County show that this year's season could be a wet one. Predictions show chances of rain at 70 percent for the first two days and 40 to 60 percent for days three and four.
In any event, the bears -- who know nothing about rain dates -- will be there. 
And so will we.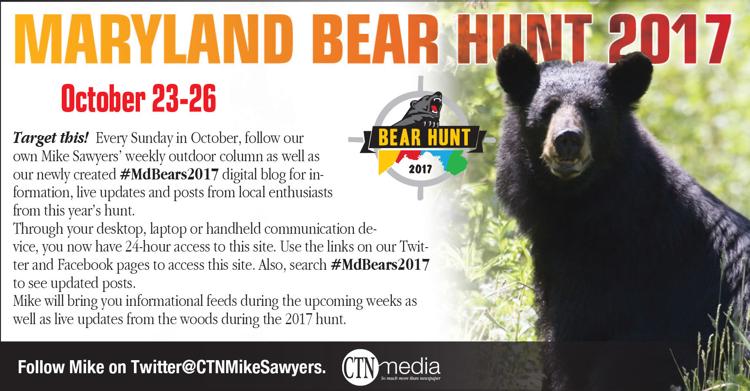 For the third consecutive year, Cumberland Times-News will activate a live blog using a social media hashtag #MdBears2017. Although I won't be hunting this season as during the past two, I'll be on the scene at places such as Mount Nebo in Garrett County and Billmeyer in Allegany County where bears will be checked in.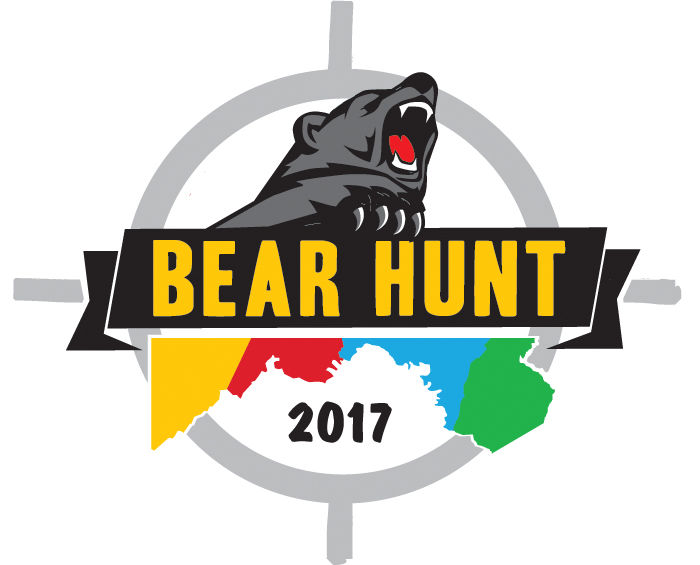 The blog will allow hunters to chime in from the woods and let others know how the hunt is going. This is a great way to get a photo of a successful hunter and his or her bear in a place where it can be seen by others.
This popular blog #MdBears2016 received a first-place editorial award from the Maryland-Delaware-DC Press association as well as top honors in competition within the Times-News' parent company Community Newspaper Holdings, Inc.
Jump on board #MdBears2017 now and let us and everybody else know how the plans are developing for your upcoming Maryland bear hunt. 
••• Follow us on our Bear Hunt Facebook page. 
UPDATED VERSION of my story about new @MDDNRWildlife bear crop damage hunting permit https://t.co/9qIACjnnvx #MdBears2017 pic.twitter.com/Cp1NRMjr3U

— Mike Sawyers (@CTNMikeSawyers) October 12, 2017