Quick-picker Billy Strings to perform twice at DelFest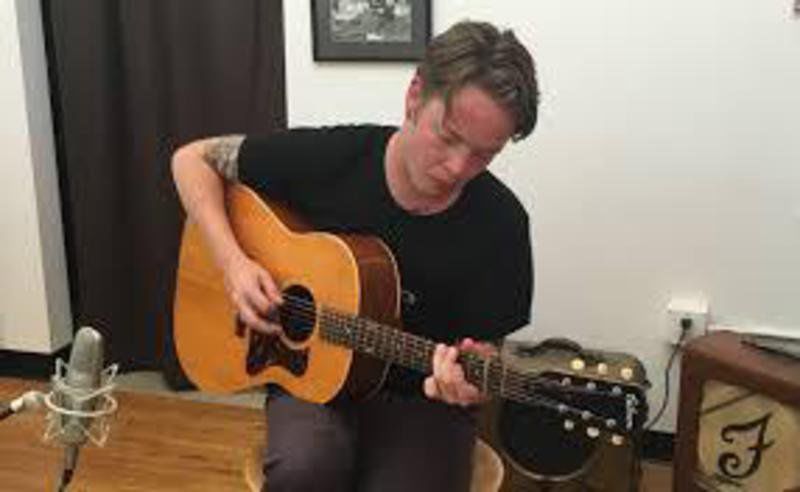 CUMBERLAND — Billy Strings will bring his lightning-quick guitar picking skills to the 10th annual DelFest.
A 24-year-old guitar virtuoso, Strings plays dizzying guitar licks on the acoustic six-string. His performances feature breakneck flat-picking of bluegrass standards and original compositions.
Held Memorial Day weekend (May 25-28) at the Allegany County Fairgrounds, DelFest features more than 30 top-tier acts from the Americana, bluegrass and roots music genres. Strings will perform twice at the festival — Saturday and Sunday.
The son of Debra Apostol, Strings grew up as William Apostol in Ionia, Michigan. He has played guitar as long as he can remember.
"I had a guitar pretty much as soon as I was born," Strings said. "My dad played guitar and he showed me my first chords. My early childhood was filled with bluegrass music."
Strings' father, Terry Barber, is an accomplished guitarist.
"My dad is a great guitar player," Strings said. "I would play backing up my dad. I was his little sidekick."
It wasn't long before Billy's guitar-picking nickname began appearing.
"When dad and I played at the house, people would come over," he said. "They started calling me 'Strings.' Then, when I got a job at a place in town they wrote 'Billy Strings' on the chalkboard and it stuck."
Strings grew up with the music of Lester Flatt and Earl Scruggs, Doc Watson, Jimmy Martin, Bill Monroe, Keith Whitley, Larry Clark and The Stanley Brothers.
However, isn't wasn't long before Strings started enjoying the music of friends his age.
"When I was 11 I started to listen to (Jimi) Hendrix, (Black) Sabbath, King Crimson and Yes," said Strings. "In middle school I joined a metal band because I wanted to play music with someone my age. I was 10 and 11, and with my dad they were in their 50s and 60s.
"I didn't like heavy metal but I acquired a taste for it. That was a phase and a fad. But bluegrass is a music that is dear to my heart. It makes me think of my childhood."
After his foray into heavy metal, he returned to bluegrass and his father.
"I came back and wanted to take the (lead) solos," Strings said. "At 16 or 17, I started flat picking. I was YouTubing (watching videos of) Doc Watson every day.
"My dad specializes in Doc Watson. He plays all those songs: 'Beaumont Rag,' 'The Cuckoo Bird' and 'Tom Dooley.' I was going down a bad path ... bluegrass kept me out of getting in trouble."
Strings moved to Travers City, Michigan, where his musical career continued to grow.
"The people there never heard flat picking," Strings said. "I started getting jobs left and right. I quit my job working at a hotel. I was a lobby attendant. Five years later, I'm on the (bluegrass) circuit."
Strings is currently performing with a quartet. This will be his second appearance at DelFest. He played the event in 2015 in a duo act with mandolinist Don Julin.
"The McCoury's are good friends of mine," said Strings. "Ronnie and Rob (Del's sons), they are like my uncles and Del is like my grandpa. They have been a huge influence on my entire life. They welcome me into their family. I love them so much.
"Ronnie is one of the best mandolin pickers on the planet. The McCourys are the cream of the crop. I can't think of a band that gets the 'high lonesome sound' like them. It's the best."
Strings is preparing to release a new album.
"We are going to release an album called, 'Turmoil and Tin Foil,'" said Strings. "That will be out in the fall. All original music with a couple guests on there ... my dad and Bryan Sutton. It's done. It has some psychedelic elements."
Strings offered an insight into his live show.
"I write the set list that day," said Strings. "We will play some bluegrass and weird covers like Black Sabbath, Hendrix. I don't pigeon-hole myself; I like to call it music. I like to mix up the songs, then play hardriving bluegrass."
Strings currently lives in Nashville.
"My mom and dad are so proud," said Strings. "There is nothing more that puts a fire under me. I got to call my dad and tell him, 'Guess who I got to play with today?' He said, "You are kidding me.'"
Strings said his father never got to pursue a music career.
"We only played at the house," said Strings. "My dad never made a living with it. The fact I am hanging with my heroes ... I remember the day my dad showed me David Grisman. Ten years later I introduced him (Grisman) to my dad and they sang harmony together." 
Strings still remembers the moment his dad realized he had passed the torch.
"When I was a kid I was learning this song, the 'Beaumont Rag,'" said Strings. "I'd said, 'Dad why don't you just play it and I listen.' The next time I played it, I nailed it. He grabbed my hand. He was so proud. It fuels me. He taught me this craft and now I'm taking it further than we ever thought."
DelFest features three stages. Strings' quartet will play Saturday on the Potomac Stage at 5:15 p.m. and again Sunday on the Grandstand Stage at 12:15 p.m.
For more on the festival, visit DelFest.com.