Strong turnout at meeting about Cresaptown road improvements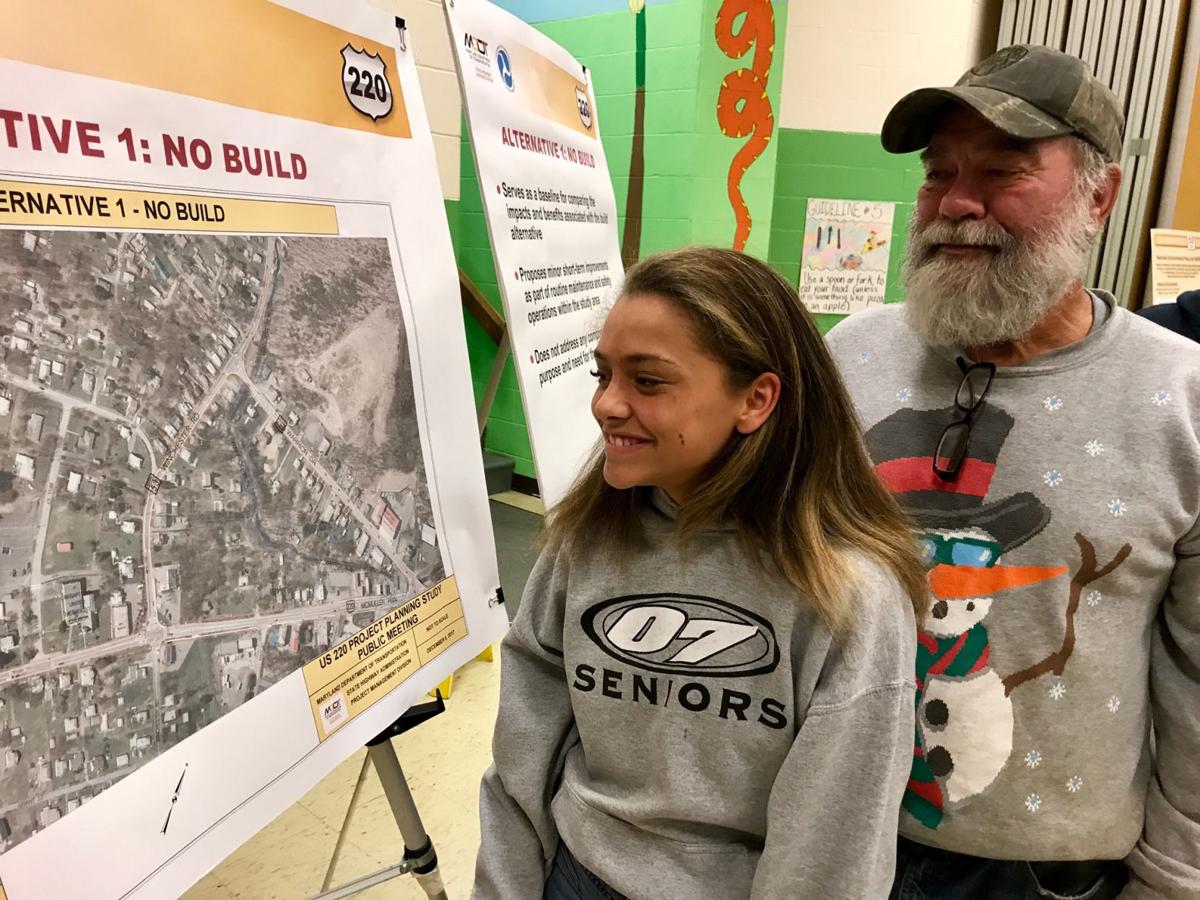 CRESAPTOWN — Rick Hughes and his granddaughter, Myla, were among 60 people who arrived during the first half-hour of a State Highway Administration meeting that described changes planned for major roadways in Cresaptown.
"I live right there," Rick Hughes said, pointing to a map that showed his house at 14707 Winchester Road. That visual was one of many displayed in the cafeteria of the Bel Air Elementary School.
The Hughes residence is not one of three structures eyed for removal.
SHA uses the term "displacement" to refer to razing a house or business for road improvements.
"I'm concerned about the kids," Rick Hughes said. "They catch the (school) bus right in front of my house."
Myla is one of the Braddock Middle School students who boards the bus there.
"One girl comes from across the street and another from down the street," the 7th grader said.
The road in front of Hughes' house will be for two-way traffic if the current plan becomes reality.
That's not a big deal to Hughes, who has lived there for 28 years and remembers when that used to be the flow.
Currently, that portion of Winchester Road is one-way leading to the traffic signal at McMullen Highway.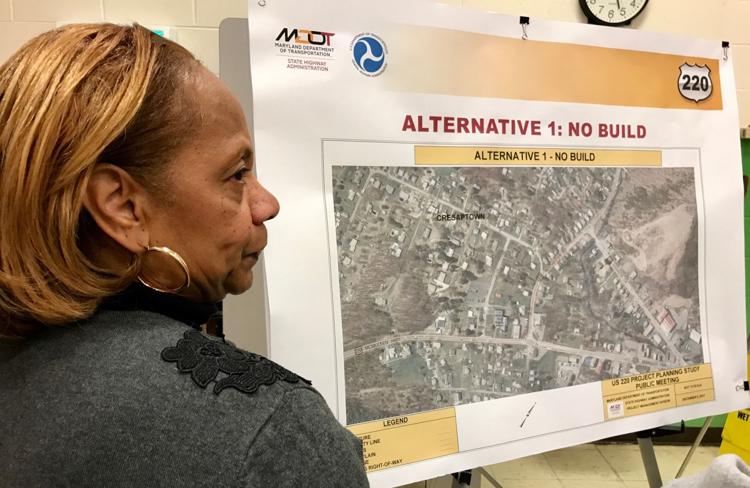 SHA Project Manager Carmeletta Harris said two houses and one business structure would be displaced under the current plan.
The commercial building on U.S. Route 220 near the intersection at Winchester Road is remembered by most area residents as once housing the VanMeter Grocery Store.
One of the houses is the first one on the right after passing the Cresaptown Methodist Church when driving south on U.S. Route 220.
The other is the first one on the right after turning right from Warrior Drive onto Winchester Road.
"We had meetings with all three property owners on Tuesday of last week," Harris said.
At such meetings, owners get answers to their questions about property values.
"It's important to point out that we are still in the first phase of this project, the planning phase," Harris said.
The subsequent three phases are design, acquisition and construction. Even the jump from planning to design could be a year or two away, Harris said.
Among alterations being considered are a retaining wall in front of the Cresaptown Methodist Church, widening of both Winchester Road and McMullen Highway so that turning lanes can be incorporated, and sidewalk construction.
Additional details about the project are found at roads.maryland.gov, where viewers can click "projects" and search for US 220 before selecting US 220 McMullen Highway.
"These meetings are important," Harris said. "We focused on these changes in Cresaptown because that is what local people told us were important when we first met in 2014."