SOUTH CHARLESTON, W.Va. — After a poor year for mast production in West Virginia in 2016, this hunting season is looking pretty nutty.
To purchase Cumberland Times-News Outdoor Editor Mike Sawyers' book NATIVE QUEEN - A CELEBRA…
The state's divisions of Natural Resources and Forestry took a look around and reported that hickory nuts are 285 percent more abundant than the norm and walnuts are dropping at a 183 percent greater rate.
Compared to last year, the index for all oak species increased. Statewide, chestnut oak had the largest increase at 106 percent of the oak species.
Overall, the authors of the annual report wrote, 2017 shows the highest total mast production of the past decade.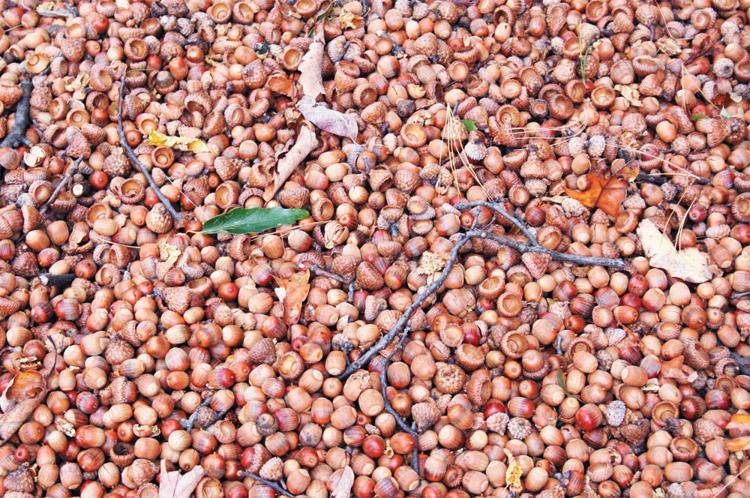 All of the soft mast species — foods such as dogwood, crabapple, grapes — are more abundant.
Ample wild food tends to make hunting a little more difficult because game species don't to move great distances in order to fill their bellies. Such stationary dining creates fewer opportunities for the animals to be seen.
The report authors — Eric Richmond, Randy Tucker, Holly Morris and Chris Ryan — predict a record bear harvest in West Virginia this coming season.
That means they expect more than 3,195 bruins to be checked in.
On the other hand, a lower harvest of deer during the archery season is predicted.
"Oak mast most heavily influences archery harvest rates compared to other weapons because bowhunting is a very close range sport. Abundant white oak mast in 2017 will make deer harder to pattern and harder to harvest.," the authors wrote.
••• #MDBEARS2017 •••
The story behind the photo https://t.co/5pQbUQKh0Y

— Mike Sawyers (@CTNMikeSawyers) September 26, 2017
People whacked out about knees must be too young to remember 1968.

— Mike Sawyers (@CTNMikeSawyers) September 26, 2017
An organizer refers to the levels of fright at The House of the Setting Sun in Green Spring WV as the Three Ps https://t.co/XaONVNiAnl pic.twitter.com/kWiHQHIikJ

— Mike Sawyers (@CTNMikeSawyers) September 24, 2017
Considering all the current NFL chatter over right and wrong, remember this? My favorite player/character. #Bears #SuperBowlShuffle pic.twitter.com/snh74BEX3l

— Mike Sawyers (@CTNMikeSawyers) September 24, 2017