Boonsboro turns away Mountain Ridge, 1-0
O'Neill's second-half goal sends Warriors to victory, state tournament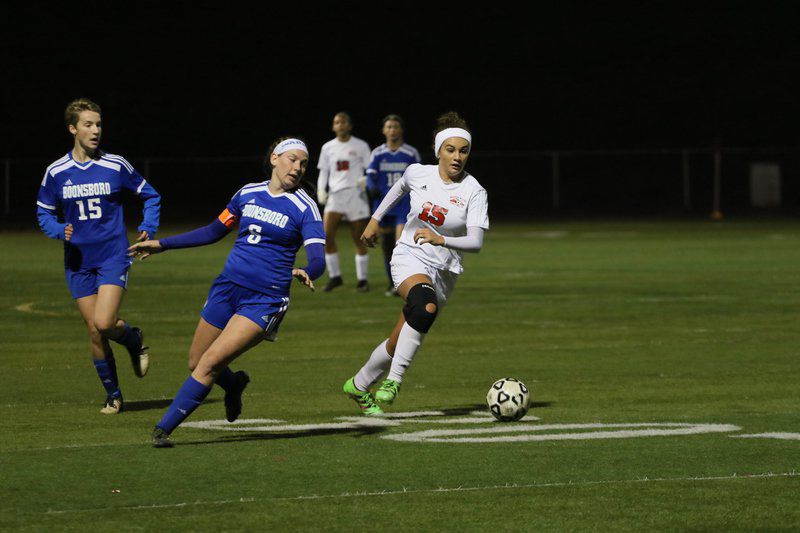 CUMBERLAND — Unlikely heroes are often born in the postseason, and it was Boonsboro's Victoria O'Neill who fit the bill Wednesday evening at Greenway Avenue Stadium.
O'Neill, a sophomore who had scored one goal in the 15 previous games, drilled a shot into the net in the 66th minute of last night's Class 1A West Region championship game as the Warriors edged Mountain Ridge 1-0 for a trip to the state semifinals.
Mountain Ridge (13-2-2) had held the upper hand during the first half but Boonsboro (12-3-1) got more offensive throughout the second, finally striking with just 14:23 to play.
O'Neill, a sophomore, chased down a pass from Savannah Plumadore in the center of the field, gained possession with two Miners in close pursuit, and planted a shot from about 15 yards out into the upper portion of the net.
"That's the last person I would have thought would score tonight," admitted Boonsboro coach Chris Lantz. "That's probably the best game she's played."
It was the only goal the Miners allowed in three postseason games, and just the ninth this season.
"We made one little mistake ... letting the ball go out of bounds when it would have been our throw in," said Mountain Ridge coach Gene Lescallette. "I couldn't see exactly what happened, but that ball should have been cleared and it wasn't, and they capitalized on that.
"It was that kind of a game, when one little mistake is often the difference between staying and going."
The Miners were unable to muster much offense after O'Neill's goal, and got off only one shot in the second half. The best chance to tie it in the final 14 minutes came on Abby Rose's free kick from the 25-yard line which was handled by goalkeeper Faith Geraci with a minute to go.
"We just couldn't seem to get the ball through the gaps," Lescallette said of the offensive struggles. "They pl ayed a flat back four, and every time we tried to put it through it hit one of their players. They did a really good job of shutting down our through balls."
Mountain Ridge outshot Boonsboro 5-0 in the first half. All five shots were on goal, including a hard blast on a breakaway by Alexa Cook that Geraci deflected away. Kate Baker had a follow shot a few seconds later that Geraci caught.
"She's been like that all year," Lantz said. "She makes big saves and bails us out at times when we have breakdowns in the back or in the midfield. I think she enjoys those moments. I just wish we didn't give her those moments so much."
Mountain Ridge led in shots 6-5 and shots on goal 5-2. Boonsboro had the only corner kick, in the first half.
"We had some good chances in the first half. We just didn't generate anything in the second," Lescallette said. "We had good pressure. We played in our attacking third the first 15 minutes or so but just nothing really nice came out of that."
Boonsboro will play North Region champion Loch Raven in the state semifinals this weekend.
It was the third straight year the Miners won at least 13 games. They again were sectional champions, Appalachian Mountain Athletic Conference co-champions, and were ranked No. 1 in the area poll throughout the regular season. Thirteen players scored goals, with Cook (13) and Loren McAlpine (11) the leaders. Goalie Teresa Lambert led the area in save percentage and shutouts (6 1/2).
"What a great bunch of girls," Lescallette said of his team. "They worked hard. I think they overachieved. I think they accomplished a lot more than they might have. I'm going to miss all the seniors. Every one of them."
Follow Mike Mathews on Twitter @MikeMathewsCTN.
Allegany senior Cameron Bratton made it official Wednesday, signing a letter of intent to play baseball at the Univ of Md-Eastern Shore

— Mike Mathews (@MikeMathewsCTN) November 9, 2017
Final: Boonsboro 1, Mountain Ridge 0

— Mike Mathews (@MikeMathewsCTN) November 9, 2017
6:00 left. Still 1-0 Boonsboro

— Mike Mathews (@MikeMathewsCTN) November 9, 2017