Fort Hill, Dunbar meet again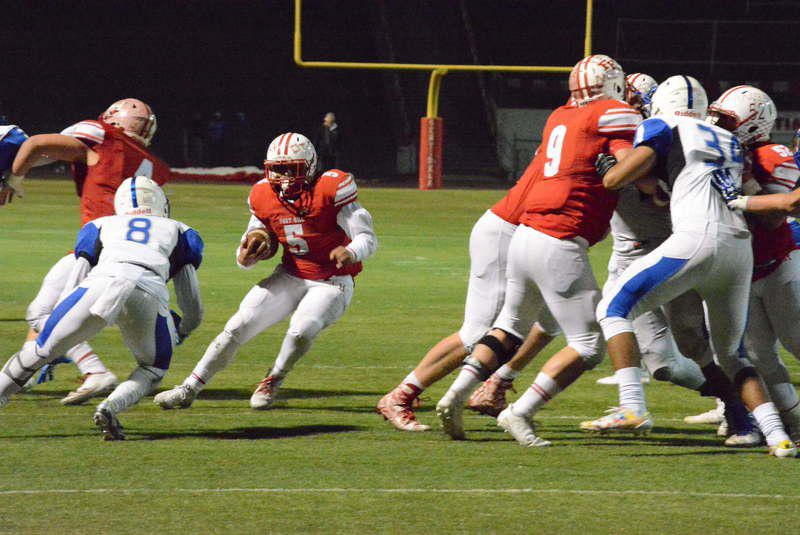 ANNAPOLIS — It's been seven years since last they met, and though, clearly, not one current player on either team took part in that game, it doesn't seem possible that it's been seven years since Dunbar and Fort Hill have played each other with so much on the line.
That seven-year itch will be scratched on Saturday when two of the most successful teams in Maryland state football history meet again with so much on the line. Make that with everything on the line, as the Poets (11-1) from Baltimore City will take on the four-time defending state champion Sentinels (12-1), 3:30 p.m., in the Maryland 1A state championship game at Navy-Marine Corps Memorial Stadium.
A Fort Hill victory would set the record for the most consecutive titles in Maryland Public Secondary Schools Athletic Association tournament history.
Fort Hill and Dunbar have met five times, four times in state finals, and Dunbar holds a 4-1 series lead. The last time they met was in the 2010 1A semifinals at Baltimore Poly's Lumsden-Scott Stadium, with the Poets winning, 20-14, in the final three seconds on their way to what would be their seventh state championship. Dunbar has since won two more titles and has nine total, while Fort Hill has won six state titles, including the last four.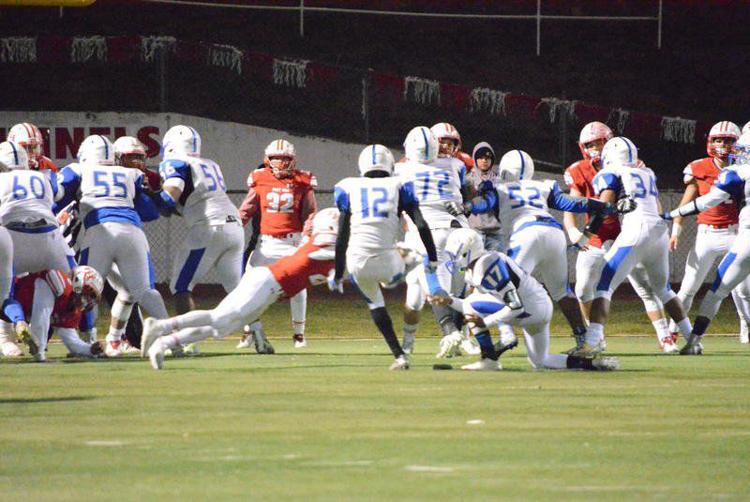 Prior to that, the teams met in the 2008 1A final at M&T Bank Stadium in Baltimore, and Dunbar won that in the final seconds as well, 20-19, as the Poets scored a touchdown on a flukey broken play, and current NFL star Tavon Austin just got into the end zone with the game-winning two-point conversion with 0:02 remaining.
Dunbar won the first meeting between the schools, 30-15, in the 1994 2A final at Hagerstown's School Stadium. Fort Hill won the next meeting, 22-6, in the 1997 2A final at the University of Maryland, while Dunbar won the third meeting, 38-23, in the 2006 1A title game at M&T.
This year's Poets opened the season in, of all places, Cumberland, and lost to Allegany, 49-42, at Greenway Avenue Stadium. Since then, Dunbar has not lost a game, winning 11 in a row, including 48-0 wins over Chesapeake and Reginald F. Lewis to open the playoffs, and last week's 52-27 win over last year's state finalist Havre de Grace in the semifinals.
This year's Sentinels began the season with seven wins to extend their Area record winning streak to 32 games before falling at Friendship Collegiate, 24-6. They closed the regular season with a 49-3 win over Mountain Ridge and a 56-21 win over Allegany.
After a 48-6 win over Southern to open the playoffs, Fort Hill has gone down to the wire, defeating Allegany, 21-20, for the West Region title and beating Lackey in overtime, 34-33, with both games going the Sentinels' way when they stopped two-point conversions toward the end of each game.
In the semifinal win over Lackey, Braeden Askins, who blocked three kicks in the game including a field-goal try on the final play of regulation, made the tackle that stopped Lackey's two-point conversion attempt in overtime to secure the win for Fort Hill.
In the Dunbar victory over Havre de Grace, quarterback Jared Lewis (3,411 passing yards, 27 touchdowns) threw for 268 yards and touchdowns to three different receivers — Raekwon Walker, Shaun Tolbert and Malik McCormick. Walker also had two interceptions.
Running backs Alfonzo Graham (1,116 yards, 16 touchdowns) and Andre Brandon (1,120 yards, seven touchdowns), each ran 12 times for two touchdowns, with Graham gaining 191 yards and Brandon gaining 105.
The Poets' 55 playoff wins is a state record while the Sentinels have won 51. Dunbar, coached by veteran Lawrence Smith, spent the past four years in Class 2A and was a state semifinalist the past two.
Fort Hill be playing in its 13th state championship game and sixth under head coach Todd Appel, who is 118-13 (.900 winning percentage) in his 10th season. He has played a direct role in 12 of the 13 title-game appearances — as player in 1986 and coaching staff member in 1994,1996-1998, 2006.
This will mark Fort Hill's fifth straight state championship game appearance, marking the first time in the 43-year MPSSAA history that will have occurred.
Senior fullback Troy Banks, who rushed for nearly 200 yards and four touchdowns in the 2016 state championship game, leads the Sentinels with 1,457 yards rushing and 23 touchdowns this year. He has 2,721 rushing yards and 44 touchdowns in his three-year varsity career.
Senior Luke Hamilton, who has a scholarship offer from Navy football, will play his final high school game on the Midshipmen's home field. Hamilton has 170 total tackles, 10 quarterback sacks and 14 tackles for loss this season, along with 50 pancake-blocks.
Three-time All-State linebacker, senior Brayden Poling, has recorded back-to-back 1,000 all-purpose yard seasons and for his four-year career to this point, he has totaled 40 touchdowns (26 rushing, 13 receiving, 1 defensively).
Senior quarterback Logan Johnson has accounted for more than 1,400 total yards this season, rushing for 583 and passing for 13 touchdowns and over 800 yards.
The Sentinels are averaging 46.9 points a game, and have been giving up 15.4 per game. They average more than 420 yards per game, while the defense has forced 33 turnovers.
Mike Burke is sports editor of the Cumberland Times-News. Follow him on Twitter @MikeBurkeCTN. Josh Mitchell contributed to this story.
One thing wrong, and only one, with the 24/7 Christmas music from here on in - the Chipmunks. The (bleeping) Chipmunks. They must be stopped. And if I ever find them, oh, they will be stopped..

— Mike Burke (@MikeBurkeCTN) December 1, 2017
What a wonderful piece by a wonderful writer about a wonderful man. " 'Cause let me tell you somethin' ... Ah kin coach." Yes, he sure could. #MarylandPride #Terps #GoTerps #FearTheTurtle @BillFeeney2 https://t.co/zPZHFhzhUR

— Mike Burke (@MikeBurkeCTN) November 29, 2017
The two worst offenses in the sporting world in all of America live in #Maryland and have been/are (in theory) on the national stage this evening - @TerrapinHoops and now @Ravens

— Mike Burke (@MikeBurkeCTN) November 28, 2017