PITTSBURGH — While so far, COVID-19 has had a minimum impact on the region, and the Allegany County Health Department Friday morning said there were no known local cases, future spread of the disease remains uncertain, medical officials for UPMC said.
A panel of physicians at a press conference Friday addressed potential risks to medical workers, hospital supply inventory and testing procedures.
The health system, across its various locations, including Western Maryland, has available for COVID-19 patients more than 5,500 hospital beds including 750 designated for intensive care unit needs.
Graham Snyder, medical director of infection prevention and hospital epidemiology for UPMC, said 28 "symptomatic" patients have tested positive in the health care system and four of them are hospitalized.
"The vast majority of these positives were identified using our own unique testing ability, with additional specimens tested at the state Department of Health" he said. "Our testing efforts are off to a strong start."
UPMC's central lab can test 80 specimens per day, Snyder said adding he expects that number to double by next week.
"Our turnaround time has been within one calendar day, with most patients getting results … in eight to 12 hours" he said.
Test results for UPMC patients are shared via electronic medical record, he said.
"We will also continue to consider open air facilities when that becomes appropriate," Snyder said.
John Williams, chief of the Division of Pediatric Infectious Diseases at UPMC Children's Hospital of Pittsburgh, talked of monitoring the virus in the region.
"We're not seeing widespread community transmission yet, and there's no evidence that Pittsburgh is becoming a center or a cluster of activity like we've in so many other cities," he said. "But, that doesn't mean anyone should let down that guard."
COVID-19 still poses a serious health threat, and folks should practice social distancing, Williams said.
Donald Yealy, chairman of the UPMC Department of Emergency Medicine, said patients and their physicians determine whether elective medical procedures "can be delayed without harm."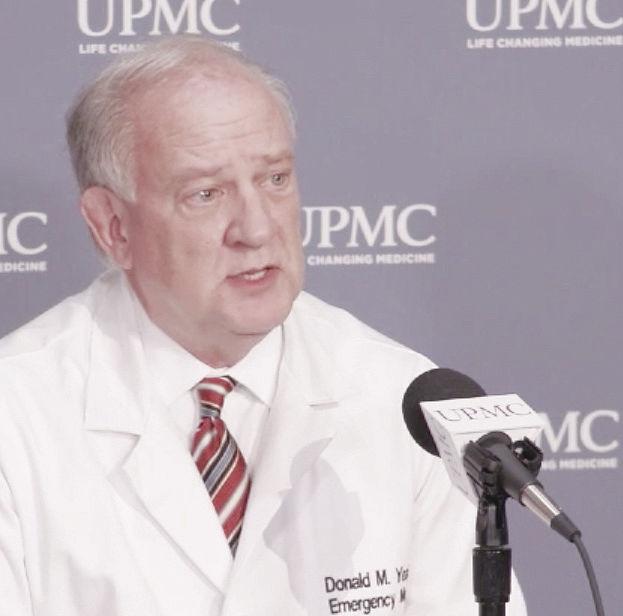 "We have the staffing and the bed availability to provide the necessary care," he said.
Yealy also talked of treating patients at a distance.
"In one day this week, we delivered the same number of telemedicine visits as we had in the previous six months combined," he said.
Pittsburgh area reporters asked the officials whether medical workers face preventable possible exposure to COVID-19.
"What do you say to staff who feel that they're being put at risk when it comes to unnecessary elective surgeries?" Sarah Boden of WESA News asked and added that patients often don't exhibit symptoms in early stages of the disease.
"(Employees) don't feel safe," she said.
"Our goal is make sure that we meet the needs of our patients and that we keep our staff safe," Yealy said. "We've had lots of cases already that have been deferred or canceled … We use protective equipment all the time."
Another reporter asked how many staff members in the past month have either self-isolated or been ordered to quarantine because of possible exposure to COVID-19.
"I don't have the accurate numbers right now," Yealy said. "It's an ongoing process as we're speaking. I suspect it will change."
Another question focused on folks who've said they have COVID-19 symptoms, and were rejected for testing.
"One of the characteristics early in the epidemic has been a shortage of testing opportunities, testing capabilities and additionally, specimen collection capabilities," Snyder said. "Essentially any patient for whom a clinician is concerned has COVID-19, we have the capability to test, and we're doing that."
When asked how often medical staff members are tested, Snyder said the health system "right now" has adequate personal protection equipment for workers and is following public health guidance regarding testing.
"We're not testing asymptomatic individuals," he said.
Potential supply shortages could become a "threat to testing opportunities and are just one of the reasons why we don't test asymptomatic people," Snyder said.