CUMBERLAND — Somewhere, a 53-year-old man has a new heart.
Somewhere else, another man, 59, has a new liver.
Just months before she died from a drug overdose at age 21 on Jan. 23, Lexus Jewell Clark chose to become an organ donor - a decision reflected on her official state identification card.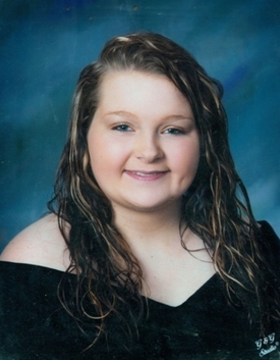 "She didn't have a driver's license," said her father, Jeff Clark. "Her mother drove her where she needed to go."
Jeff and Audra Clark have moved from their home in the 700 block of Maryland Avenue where Lexus grew up and where she fatally overdosed.
"It doesn't make sense owning a home and then leaving it, to rent an apartment, but we decided we had to," Jeff Clark, who works as circulation manager at Cumberland Times-News, said. 
The move was emotionally generated by their daughter's death, but coming in a close second was the need to leave a neighborhood where the Clarks said they saw constant drug activity.
Audra said she called Cumberland police often with her observations.
Lexus' death certificate describes her demise as "fentanyl intoxication with complications."
Fentanyl, according to the National Institute on Drug Abuse, is a powerful synthetic opioid analgesic that is similar to morphine but 50 to 100 times more potent.
Lexus became unresponsive in her bedroom.
"She had been helping (at another home) with preparations for our grandson's birthday party. Then she came home and went upstairs to her bedroom," Jeff Clark said.
Later, Audra called up the steps to Lexus, but there was no response. She walked upstairs, opened the bedroom door and immediately called for her husband.
"She was face down on the bed and her arm was blue," Jeff Clark said. "I was doing CPR, crying and praying."
An ambulance was summoned.
Her arm was blue, her parents said, because of a lack of oxygen, not because she had used a needle to inject heroin.
"Lexus was a snorter, not a banger," Audra Clark said, the latter term referring to the use of a needle to apply the drug.
With no track marks on her arms, it was easier for the Clarks to believe Lexus when she told them the reason she nodded off at dinner, or dropped her cell phone or a lit cigarette was because of sedatives she was taking, they said.
The Clarks want other parents to be alert, to watch for everyday mannerisms in their offspring that may be out of the ordinary.
"Don't say to yourself that we raised our child better than this and then let it go," Jeff Clark said.
It took a while, but the Clarks finally were able to access Lexus' cell phone after her death.
There were several text messages on the afternoon of Jan. 21, Jeff Clark said. 
"The last one was at 5:10 and told her if she liked the $40 bag of boy that three bags would be available for $70," Audra Clark said.
Boy is one of the many street names for heroin.
The Clarks turned the text messages and other information from Lexus' cell phone over to the Cumberland Police Department.
"This is my daughter right here," Audra Clark said as she reached into a cabinet and removed an ornate urn that holds Lexus' ashes.
When the Clarks married, each brought a child to the union.
"We prayed that God would bless us with a child of our own," Jeff Clark said. "But we didn't pray that the blessing would last for 30 or 50 or 21 years."
Fighting the heroin epidemic is a never-ending battle, Jeff Clark believes.
He and his pastor, Floyd Bender, go to the baseball field at Constitution Park one night each week where they can look over the Queen City's neighborhoods from that promontory and they pray for its residents.
Knowing the prevalence of heroin in the town and her neighborhood, Audra took a heroin responders' class at the Allegany County Health Department and is certified to administer Narcan, which is used for the emergency treatment of a known or suspected opioid overdose.
"That was before we knew Lexus was using heroin," she said.
The Clarks plan to each get a tattoo in their daughter's memory. Audra's will be made from a photograph of an embrace of their hands.
Audra pulled an 8x10-inch color photograph from a box full of printed memories. The portrait shows the five family members. Lexus is on the left.
Audra used her hand to cover the image of her late daughter.
"That's our family now," she said of those who remain. "I'm never having another family portrait taken." 
••• #cumberlandheroin •••
Opioid, Heroin Deaths Reach 'Crisis Level' In Maryland « CBS Baltimore https://t.co/PRa1sKtaqF

— Wisdom of The Lion (@sonofselassie) April 24, 2017
Baltimore heroin ring that sent drugs into #Harford broken up, police say https://t.co/DcvswJUHjY

— Sun Bel Air (@sunbelair) April 24, 2017
Lawmakers fight back against "crisis level" overdoses of heroin and opioids, among Maryland's top killers. https://t.co/ugJ77qvWo7

— Capital News Service (@CNSmd) April 24, 2017
In Maryland, opioid overdoses now rank with cancer, strokes, and heart attacks among top killers https://t.co/XgIDCn6IgZ #opioidepidemic

— NYSHealth Foundation (@nys_health) April 24, 2017