CUMBERLAND, Md. — Any concerns that 84-year-old Del McCoury might not be able to sing and play like he used to were quickly erased Thursday afternoon when the Del McCoury Band kicked off the 15th DelFest.
A festival tradition, the Del McCoury Band starts the event held at the Allegany County Fairgrounds with what is known as the soundcheck set.
McCoury, who turned 84 in February, delivered an energetic 15-song set.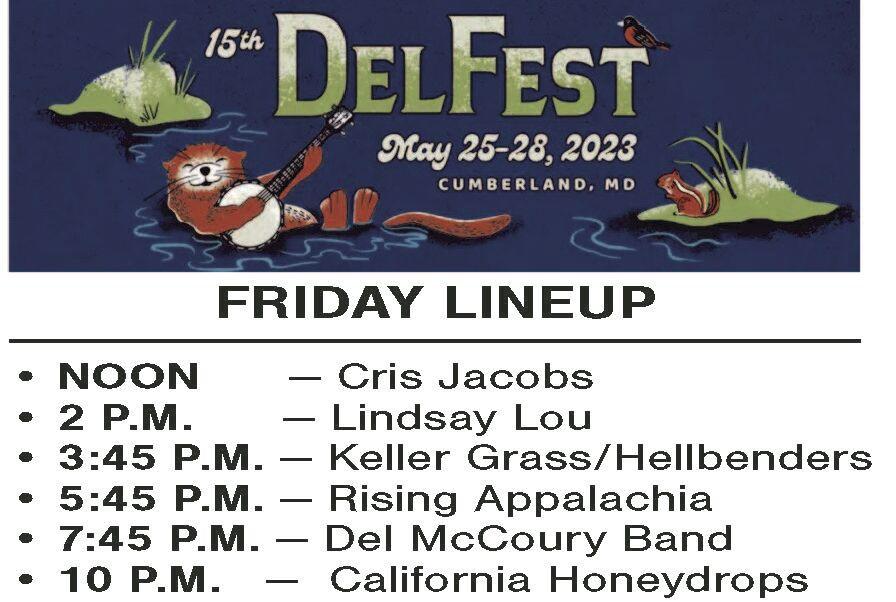 "His voice was just beautiful as ever. He's amazing," said Johlene Hess, of Harrisonburg, Virginia, who has been to DelFest numerous times.
"He sounds great," said Summer Menkee of Atlanta, Georgia. "We loved it."
DelFest draws around 10,000 people per day for the four-day event. The opening soundcheck set is known for its informal style. The Del McCoury Band, who normally wear suit and tie, performs in casual clothing and takes requests from the audience.
"It's good to be back for another festival," Del opened with. He quickly added his down-home humor. "We're going to get to play some songs for you. We'll get to do several, so you might find at least one you like."
McCoury opened the set with the Johnny Bond tune, "I Wonder Where You are Tonight," followed by "Almost Proud," written by Eric Baker and Mike Barber.
After each song, dozens of fans begin shouting their requests. Most of the songs for the rest of the set were audience requests.
In addition to a strong vocal, Del put in an energetic performance. At one point, during a tune with a quick pace, Del strummed his Martin guitar so hard he broke a string. "Dad got a little carried away," joked Ronnie McCoury, Del's son and mandolin player.
"The soundcheck set is the whole reason I come," said Fred Moore of Philadelphia. "It's my favorite part of the festival and Del was amazing."
Del McCoury, a legacy artist in bluegrass, began playing music in the late 1950s. He got his first big break in the early 1960s when he joined with the father of bluegrass, Bill Monroe, playing guitar in the Monroe's Blue Grass Boys.
McCoury received a request to play "My Dixie Home." Del agreed to sing it and said, "Here is a song I use to play with Bill Monroe. I played guitar; I never sang it. So don't get mad I forget the words."
With the help of his son Ronnie, he got through the song. "How 'bout that ... I even remembered an extra verse," Del joked.
Lynn Cheryan of Silver Spring was at her first DelFest. "The setting here is breathtaking," she said. "It's fantastic. It's my first festival and my first time camping. When you get up in the morning ... you have the mountain over the river; it's beautiful."
"We are having a great time," said Menkee. "We have a friend who lives in Western Maryland, and we were looking to take a family trip together. I'm so glad we came."
Hess said she had been going to bluegrass festivals since the 1970s. "It's the music and the people. It's a very welcoming and friendly festival. Everyone is kind and caring toward each other. It's really a special event."
Cheryan, who plays banjo and sings, also participated in the DelFest Academy, which was held Monday through Wednesday.
"You are surrounded by so many talented people," she said. "I feel like a kid in a candy shop. I learned so much."
Following the Del McCoury Band set the winner of the DelFest Academy band scramble got to play a song. Each year the academy places the 110 students into 10 bands and the group must learn a song.
On the final day of the academy, each band performs, with judges selecting a winner. The winning group, called "The Knotty Pines," got to play on the Grandstand Stage after Del's soundcheck set.
On the Grandstand Stage Friday, performers will include Cris Jacobs, Lindsay Lou, Keller Williams featuring the Hillbenders, Rising Appalachia, the Del McCoury Band, and The California Honeydrops.