CUMBERLAND — For more than two decades, Melissa Armstrong has held on to photos of a man she believes is her birth father. Recently, her search for him led to Cumberland. Apparently, however, some local folks don't want her to meet the guy.
As young children, Armstrong and her twin brother lived in various foster homes before they were placed with a New Jersey couple that had adopted nearly two dozen kids.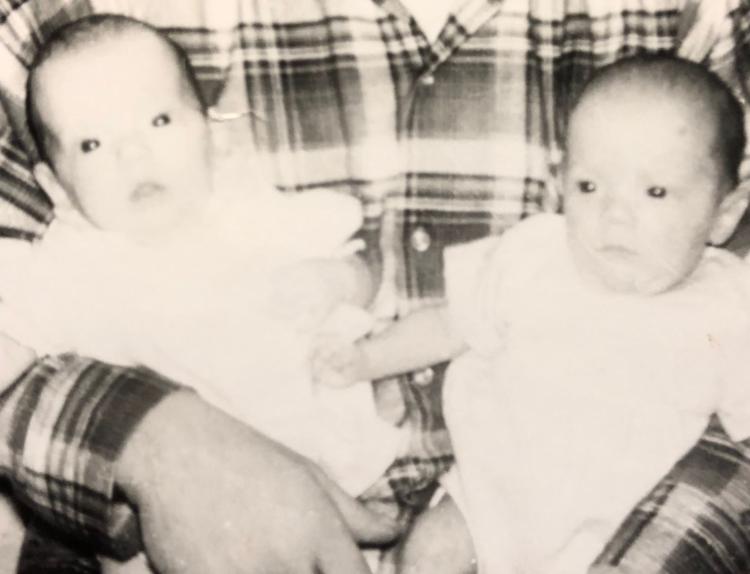 Despite a volatile childhood, Armstrong went on to be healthy and successful. She raised two children, owns a cleaning business and works part-time as a photographer.
"I decided a very long time ago when I was young that I didn't want my childhood that was decided by other people to (determine) who I became as an adult," Armstrong said. "I had an incredibly dysfunctional childhood (but) it has made me the strong, capable woman that I am today."
That said, she still looks at the old photos and has questions about her father.
"Who is this man?"
The mother
Armstrong, 58, of Easton, Pennsylvania, was in her early 30s when she decided to search for her biological parents in the 1990s.
At that time, her twin brother William lived in Kenosha, Wisconsin.
"We were always kept together," she said of being raised with her twin. The siblings lived in about nine different facilities before, at roughly age six years, they moved to New Jersey. "We were adopted into the same family. They had a biological son and daughter but they adopted 20 other children. I don't know how they were able to do that."
Armstrong doesn't remember much of what happened between leaving Cumberland and being placed with the New Jersey family.
She's spent decades researching her childhood.
"It was a closed adoption," Armstrong said. However, when she obtained her file she was able to read some information, including her birth mother's name, that had been covered with a thin layer of white correction fluid. "You could so clearly see everything underneath it."
Armstrong learned her birth name was Lisa Gayle Ritchie and she and her twin, originally named Billy, were born in Cumberland in 1961. The siblings were young children when they were removed from their mother's care due to neglect.
At the start of her search for her biological parents, Armstrong made pamphlets — which explained her desire to locate relatives — she mailed to folks in the Cumberland area that shared her original Ritchie surname.
"There was no internet back then," Armstrong said, and added her resources included a library and phonebook.
Within days, a man who claimed to be her uncle called her.
"He kept referring to my mother as 'Ben,'" she said. "I was thinking, 'did my mother have a sex change? Is this going to be something that is really bizarre?'" She would later learn "Ben" was a nickname given to her mother by family members.
Around that time, Armstrong had a phone conversation with her birth mother, Mary Dolores Huffman Ritchie, who lived in Cumberland.
Soon after, Armstrong, her ex-husband and their two young daughters drove to the Queen City where her uncle, mother and other relatives met them at a hotel. Armstrong's twin wasn't able to attend the reunion.
The meeting caused varying emotions for Armstrong, and the realization that she had several half-siblings, all but one of whom had been placed for adoption, started to sink in.
"I could just feel everything shift … from excitement to anger," Armstrong said.
Then she went to her mother's house.
"She was living in a four-by-four building," Armstrong said.
As she and her family drove away from Cumberland, Armstrong's feelings toward her mother changed.
"As we were pulling out of her driveway, I looked at her through the back window. I felt bad and thought, 'look how she's living.'"
Armstrong later mailed her mother a round-trip bus ticket to visit her in Pennsylvania. "She seemed very excited."
The trip went well.
She bought her mother clothes, a sewing machine and other gifts.
"We kept in touch through letters," Armstrong said.
After a few months, the relationship changed, however, when Ritchie started asking Armstrong for financial help.
"I just became really angry," Armstrong said. "Then I cut off contact with her and never spoke to her again."
Soon after meeting Ritchie, Armstrong got a call from police in Wisconsin. Her twin had been found dead from alcohol poisoning in his home.
"My twin brother's entire childhood was just riddled with physical, emotional and verbal abuse," Armstrong said. She talked to him late in his life and he told her of a ditch behind one of the houses where they had lived where a foster father sexually abused him. "My heart just sank … He turned to alcohol, and it killed him."
Armstrong said she "went through a lot of therapy" years ago.
"I found out a lot about myself (and) learned I was toting along a boatload of guilt," she said of her emotions regarding her twin brother. "He was a serious alcoholic … I couldn't do anything to help him."
Complicated journey
Armstrong learned Ritchie's living conditions hadn't improved much over the years.
Recently, she found an article written in the 1980s by former Cumberland Times-News reporter Mike Sawyers, who interviewed Ritchie for the article, "Welcome to my humble home." The story describes "a 9 x 10 foot aluminum storage shed" and tent Ritchie lived in with a dog and cats.
The article also includes a poem Ritchie wrote:
Now we're crippled and getting old.
I really think I've been left out in the cold.
Oh well, now it's getting kind of late.
So I'll just set here and leave it up to fate.
"When I read the poem, I didn't feel much of anything except, 'is she trying to get sympathy?'" Armstrong said. But, she was able to relate to her mother's creativity. "Years ago I used to write poetry … I've had poems published."
Armstrong also recently learned her mother had "slept around" a lot.
"She had 12 kids with different men," she said.
Most of Armstrong's birth siblings were given the last name Ritchie.
"Melvin Ritchie was some guy my mother was married to at some point," she said.
In her research Armstrong learned she had had more half-siblings, but they died from malnutrition.
Then in 2006, Mary Ritchie, 78, of Cumberland, died at Memorial Hospital, a Cumberland Times-News obituary states.
Recently, Armstrong created the Facebook page "Cumberland: Where my journey began in 1961" to find more information about her roots.
"I would just love to know what happened between my mother and father," she said.
Read more about Armstrong's search for her relatives in tomorrow's Cumberland Times-News and at times-news.com.