CUMBERLAND — As the use of a prostate-biopsy device invented by a Cumberland physician expands around the world, it is likely there will be fewer and fewer post-procedure infections.
"We can humbly say that since going to this technique we have had zero infections at our center," said Dr. Matthew Allaway of Urology Associates on Williams Road.
Each year, there are 1.2 million prostate gland biopsies in the United States. There are are about 500 annually at Urology Associates.
https://t.co/h3UPvWTmIV - Cumberland doctor's prostate biopsy device goes national - world distribution next

— CumberlandTimes-News (@CumberlandTN) February 28, 2017
Instead of guiding the sampling needle through the rectal wall, where fecal coliform bacteria can become attached and be transferred, Allaway's device allows for an alternate or transperineal route to the prostate gland, not simply reducing subsequent infections, but avoiding them.
With this method, the pathway to the prostate is in front of the rectal wall, not through it.
"Some locations (using the transrectal approach) were seeing infection rates as high as 6 percent following biopsy," Allaway said. "And these are life-threatening infections that almost always require hospitalization of two or three days. The usual case is that 36 hours after the biopsy there is a fever with chills and shakes."
A year ago, when the Cumberland Times-News published a story about the device, clearance was being awaited from the Food and Drug Administration.
That clearance came a few months later.
"Following that article, we got calls from men in New York and Tennessee who wanted to come here for their biopsies," Allaway said.
And, since FDA provided clearance, 5,000 devices — officially called Precision Point Transperineal Access System — have been manufactured and some are in use in various parts of the country.
Twenty-five physicians have come to Cumberland to be trained to use the device. They work at hospitals such as Johns Hopkins, Cleveland Clinic, MD Anderson Cancer Center in Houston and Rush University in Chicago.
Training typically lasts two days.
Allaway sometimes travels to other hospitals to provide training.
Dr. Mohammad E. Allaf, of the Brady Urological Institute at Johns Hopkins Hospital, sent Allaway a Tweet describing how well the device had worked and saying it would become the new standard of care for prostate biopsies.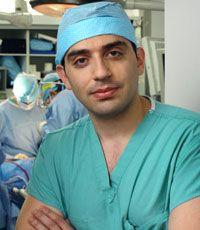 The world headquarters of Perineologic will open soon at 183 North Centre St. in Cumberland.
Allaway, president of the company, along with his wife, Kelli Allaway, chief financial officer, and John M. Hart, chief operating officer, have been frequent fliers to destinations where they describe the device to health care professionals.
"Our next trip is to New Jersey, but we have recently been to Ruby and Mon General hospitals in Morgantown and the Charleston Area Medical Center," Hart said. "There are 100 meetings a year that we should be sending someone to for marketing and sales."
The group's trip planner includes visits to California and Kaiser Permanente, the biggest health system in the country, as well as to London and the 14,000-member European Urology Association and to Boston and the American Urology Association with 20,000 members.
A visit to Wales is in the rearview mirror.
Clearance to market the device internationally is anticipated in April, Hart said.
The device is being manufactured at Bridgemedica near Boston.
"We found out that FDA clears only 5 percent of the medical devices it evaluates," Matthew Allaway said. "And Bridgemedica said the FDA clearance for our device was the fastest they had seen."
Hart said potential markets include the United Kingdom, Ireland, Italy and Australia.
Manufacturing is the only aspect of the company that won't take place in Cumberland.
"Distributing, marketing, sales and design will all take place here," said Kelli Allaway. The group anticipates employing 10 to 15 individuals.
Not only does the device provide a safer route to the prostate, but results in a better cancer diagnosis, according to Matthew Allaway.
"We can sample the entire prostate, which couldn't be done using the old method," he said. 
A (WARNING) graphic demonstration video is available on YouTube. As of mid-February it had been viewed more than 1.3 million times.
Hart said the company reached out first to the medical industry's thought leaders, anticipating that the word would be spread to practitioners.
"But we want a public awareness, as well," Matthew Allaway said. "We want a man who needs a biopsy to know that this new, healthier way exists."
•••
TWEETS
Up next, the world! Cumberland doctor's prostate biopsy device new standard of care. Company HQ will be in city https://t.co/ScBjDsRvOQ pic.twitter.com/fQXPwVLwYK

— Mike Sawyers (@CTNMikeSawyers) February 28, 2017
Precision Point Transperineal Access System used in various parts of country. Read full story by CTN's Mike Sawyers https://t.co/YXpNz8yQ2W pic.twitter.com/Ir5bxT7pgZ

— Teresa McMinn (@teresamcminn1) February 28, 2017
Congratulations to Dr Gleave, recipient of the 2017 Richard D. Williams MD Prostate Cancer Research Excellence Award https://t.co/eqOFSwoldf

— VancouverProstateCtr (@VanProstateCtr) February 28, 2017
https://t.co/h3UPvWTmIV - Cumberland doctor's prostate biopsy device goes national - world distribution next

— CumberlandTimes-News (@CumberlandTN) February 28, 2017
.@dbasanta is working with prostate cancer clinicians to understand metastasis to the bone #mathoncoFest17

— Carlo Maley (@cmaley) February 28, 2017
"The most important thing is to get men to talk about prostate cancer. To get it out in the open." - Ken Griffey, Sr. #ZEROSummit2017

— ZERO Prostate Cancer (@ZEROCancer) February 28, 2017
As a prostate cancer survivor thanks to early detection, I cannot agree with this enough. https://t.co/cS3D7fvyyo

— Tom Flynn (@PhilaFlynnie) February 28, 2017