CUMBERLAND — Schools in Allegany County are now stocked with naloxone - an opioid overdose antidote.
Many Maryland counties only stock the drug in middle and high schools. Allegany now keeps it in all schools, registered nurse and school health supervisor Pam DeVore said at a county Board of Health meeting on Tuesday.
"(It's) not only there just for the students (and) staff that may possibly need it — we are seeing a lot of impaired parents and guardians coming in," she said.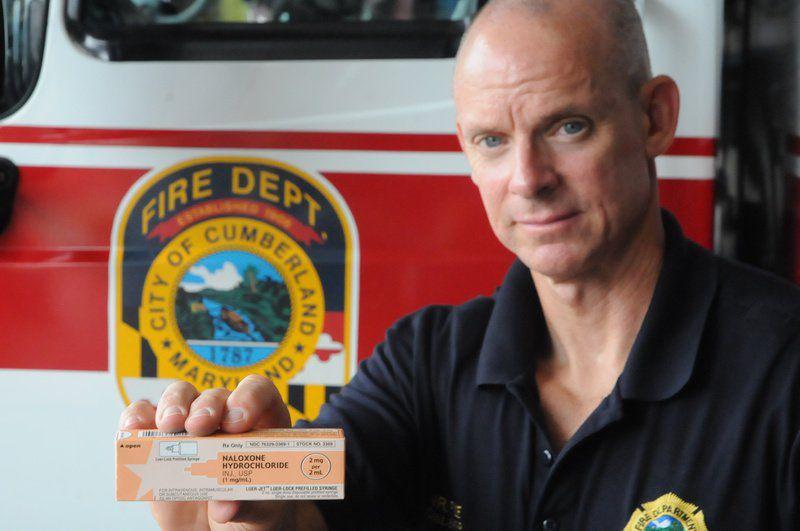 The Allegany County Board of Education approved a policy last year allowing the administration of naloxone, also known as Narcan, in schools.
#Health #MD - From MarylandDHMH - Our #Overdose Response Program has trained more than 42,000 in the administratio… https://t.co/yDyBFgVT4L.

— GCHD (@garretthealth) March 6, 2017
In 2016, there were 59 drug- and alcohol-related deaths in the county, according to preliminary data.
So far in 2017, there have been nine heroin-related deaths.
Many heroin overdose deaths have been attributed to fentanyl and carfentanil, a synthetic opioid, health officials said.
Fentanyl is 50 to 100 times more potent than morphine.
Carfentanil is roughly 10,000 times more potent than morphine. 
"We have seen carfentanil in our hospital," said Jenelle Mayer, Allegany County health officer. 
Allegany's Prescribe Change website will soon include information on both drugs, Rebecca Meyers, the health department's outpatient addictions program director, said.
The site will also include information on the Centers for Disease Control and Prevention's guidelines for opioids.
Another section offers tips for parents about speaking to their children about drugs and alcohol, Meyers said. 
Prescribers in the county also received a letter from the health department reminding them about the CDC's guidelines for opioids and a flier regarding the new CDC app for guidelines.
We need you now more than ever! Help our community prevent overdose deaths with the Overdose Response Program https://t.co/fLkHEFx8jq pic.twitter.com/JAHsfDl1wU

— DHMH (@MarylandDHMH) March 3, 2017
#Health #MD - From MarylandDHMH - Have you seen us? Tweet us if you've seen us! https://t.co/yDyBFgVT4L is making… https://t.co/F9Xx1ebiz2

— GCHD (@garretthealth) March 1, 2017
Have you seen us? Tweet us if you've seen us! https://t.co/fLkHEFx8jq is making its way around Maryland. #NaloxoneWorks pic.twitter.com/9qWAWEMVZa

— DHMH (@MarylandDHMH) March 1, 2017
You don't have to be law enforcement to get trained in saving lives. Check out https://t.co/ejsC8IjBnS for more information. pic.twitter.com/vJYejemQ90

— DHMH (@MarylandDHMH) February 28, 2017