CUMBERLAND — From push mowers to fire trucks — if it has an engine and is owned by the City of Cumberland, Mike Pyles has either fixed it or kept it running at one time or another during the past 38 years.
A proud motor-head, Pyles will turn his last municipal bolt and tune his last police cruiser on Feb. 28 before retiring.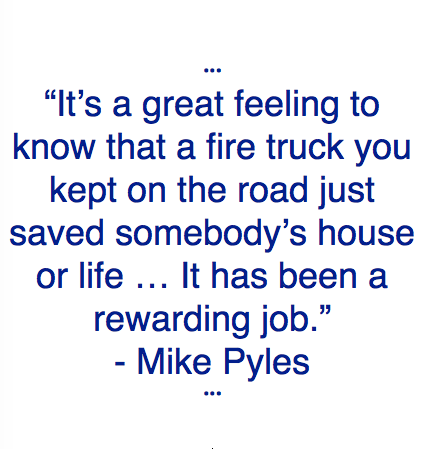 But his world of lug nuts, fuel injectors and suspensions won't end, because he has a shop at his Fort Ashby, West Virginia, home where he builds performance motors.
Before being employed by the city in July 1979, he was a mechanic at the former Spoerl's Automotive in the Motor City area of Cumberland.
Pyles, now the city's senior mechanic, works with three other mechanics to keep the municipal fleet of 125 vehicles rolling.
"It's a great feeling to know that a fire truck you kept on the road just saved somebody's house or life," Pyles said. "It has been a rewarding job."
CTN's Mike Sawyers brings you a story from a guy who worked on Cumberland vehicles for nearly four decades. https://t.co/wfFWFyhMBE

— Teresa McMinn (@teresamcminn1) February 23, 2017
On Thursday morning, mechanic Brian Broadwater performed routine maintenance on police cruiser 10, a 2015 Ford Interceptor, when he noticed a problem with the suspension to be repaired as well.
"We have a good team here," Pyles said. The other two mechanics are Rob Frankenberry and Garhet Dolly.
"I've learned a lot working for Mike, especially on the big equipment," Broadwater said.
Heavy snows stress plow drivers, but the support staff at the city's garage is there for support.
"During one storm I worked 36 straight hours," Pyles said. "Plows have come off and gotten run over by the trucks. All kinds of things happen. I always believed it was my duty to work whenever I was needed."
Pyles has worked on dump trucks, pickup trucks, sedans, street sweepers, backhoes, bulldozers, excavators and, oh yeah, push mowers.
"One time the lugnuts on a (city) dump truck broke. It was cheaper to weld them back on rather than have it towed back to the garage," Pyles said. 
After Tuesday, Pyles will have more time to hunt and fish at or near his old home place at Fort Ashby.
He resided in Cumberland when the city had a residency requirement for employees.
"Cumberland will always be home," he said.
"It's a great feeling to know that a fire truck you kept on the road just saved somebody's house or life." See soon: https://t.co/wfFWFyhMBE

— Teresa McMinn (@teresamcminn1) February 23, 2017