OAKLAND — "This is probably not going to look good ... my handprints will be on the knife." According to a veteran paramedic, Megan Shaffer said those words after she was found naked, scratched up and freezing in a rural Garrett County house more than a year ago.
Christopher Biggs, an Allegany County Department of Emergency Services paramedic and training officer, was at a Garrett hearing on Monday to describe conversations he had with Shaffer on the morning of Jan. 4, 2017.
The hearing was held for Circuit Court Judge Raymond Strubin to decide whether Shaffer's discussions with Biggs could be used as evidence in a trial set to begin tomorrow.
Shaffer, 21, of Ridgeley, West Virginia, is charged with second-degree murder, manslaughter and assisting another to commit or attempt to commit suicide in the death of Alexander Stevens, 24, of Frostburg.
Stevens was found, naked, with his throat slashed and at the bottom of a cliff, dead on Jan. 4 last year within the Savage River State Forest in Garrett County near Pine Swamp Road.
In December, Shaffer entered a not guilty plea to all counts.
In court on Monday, Biggs, a 23-year paramedic, answered questions — from Garrett County State's Attorney Lisa Thayer Welch and Shaffer's lawyer, Stephen R. Tully of Towson-based Seigel, Tully, Rouhana & Tully — about the morning he met and treated Shaffer.
Biggs was on duty when an emergency call was dispatched at roughy 8:30 a.m. on Jan. 4 to a residence on Pine Swamp Road, he said.
Allegany court records indicate on that morning, Shaffer had made her way into the house, found a cellphone and called 911, which can be reached without using a passcode.
"It was just a pretty remote road," Biggs said and added he and his ambulance driver responded to the scene where a Natural Resources Police officer told them Shaffer was inside the house.
Biggs said he entered the living room of the rancher-style dwelling where he found Shaffer on a couch with a blanket covering her. He explained to her that he was a paramedic there to treat her, he said.
"She appeared to be very cold," he said. When Biggs lifted the blanket, he saw cuts, scratches and abrasions all over her naked body. Shaffer also had an increased heart rate, he said.
Biggs said, at the time, he had knowledge of discussion between 911 dispatchers and rescue workers that another person might have been with Shaffer when she fell from a cliff in the area. He asked Shaffer a series of questions to ascertain the level of her injuries and location, details of a possible second victim.
"Is there a second person?" Biggs said he was trying to figure out at the time. "Something did not make sense."
Not knowing the full extent of her injuries, he placed Shaffer in a neck brace and on a medical transport board.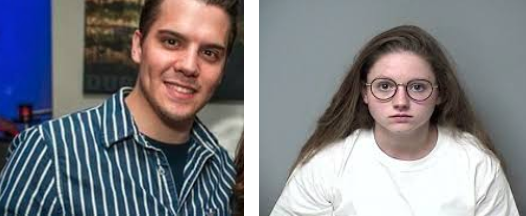 They left the house at about 9:13 a.m. and he continued to converse with Shaffer en route to the Western Maryland Regional Medical Center, Biggs said. They arrived at the hospital at 9:53 a.m.
Biggs asked Shaffer "how the fall took place" and whether she had been sexually assaulted, to which she answered "no," he said.
Biggs said Shaffer told him she was with an "extremely close" male friend who asked her to undress and she complied. She also said they had a caged cat and candles at the area of the cliff, he said.
Shaffer said the couple fell from the cliff and were still at the bottom for an undisclosed time, Biggs said. In conflicting accounts, she said the male died after the fall, he had not died and they walked down the hillside, he cut himself and "he had fallen on the knife," Biggs said.
In another comment, Shaffer said she and the male had been standing in a body of water and the young man "wanted to kill himself ... cut his own throat," Biggs said.
Shaffer went on to say Stevens collapsed face down into the water and her prints would be found on the knife, Biggs said and added that at that point, he realized law enforcement needed to be involved.
After hearing the testimony and a brief recess, Strubin concluded the conversations between Biggs and Shaffer at the Garrett house and on the way to the hospital included "at least four different versions" of Shaffer's account of what happened at the the cliff. 
While Biggs in his job acted as an agent of the state, he did not operate as a law enforcement official, Strubin said.
Shaffer was not in police custody during the time Biggs treated her, and she had accepted that medical treatment, Strubin said.
He ruled Shaffer had not been held in an interrogation manner and denied Tully's motion to suppress the conversations between Shaffer and Biggs as evidence.
Roughly 80 people tomorrow are expected to be available for selection as jurors in the trial, which as of now is slated to last through Friday.
Check back at times-news.com for continuing coverage.
••••••••••••••• -30- •••••••••••••••