This story about an old hat, or cap if you prefer, begins in the early 1990s at the Acme food market at the Braddock Square shopping center.
I shopped often at Acme.
In the center of the aisles, the store would frequently have cylindrical cages holding inexpensive items. During one of my shopping trips, I noticed that a cage was full of camouflage caps in the traditional brown camo style. The cost per cap was $3.
I bought three, one for my noggin, one for my father, Frank Sawyers, and one for his best buddy, June Metz of Weston, West Virginia, our hometown. Each November we would travel to Lewis County to hunt bucks for the first three days of the rifle season and we would stay with the Metz family.
I'm not sure of the eventual fate of June's cap. I know I wore mine out. I would use boot wax to make it rain resistant. The cap was lined with foam. I can't find any foam-lined caps anymore and that's too bad because the foam added a surprising amount of warmth and wind resistance. I loved that cap.
After Dad died in October 2003, I found his brown camo cap in his closet and quickly appropriated it. I wear it to this day and it looks as if it may have a good number of hunting seasons remaining.
The photo of the cap you see with this column was taken in March 2020 as I scouted Dan's Mountain for signs of turkey gobblers. As you can see, I found a wing feather and it became a decoration for the cap that day.
Many of us, especially those of us who have hunted a lot of years, have hunting or fishing items that were handed down from a generation or two before us. They may be the actual fishing rod or firearm, but often are an accessory of some sort.
There was a time in Maryland when a hunter, to be legal, had to display his license in a carrier that was pinned to the back of a hunting coat. I have my father's tag that holds his senior lifetime hunting license. Such licenses are no longer available, by the way.
I wear that back tag on special occasions, such as during the years when I get to hunt Maryland bears.
In 1961, Dad was the number-one salesman in the United States for Burroughs Corp., a manufacturer of banking accounting equipment. He received many honors and awards including a Remington Model 78 deer rifle in 30-06 caliber. Like him, I have taken many deer with that rifle, but now it belongs to my son, Ryan, and with it he bagged a trophy Virginia buck in 2018. Ryan field dressed that deer with the Buck folding knife that was also my father's and which now rides on Ryan's belt during hunting seasons.
A prize possession of mine is a black/red, plaid, wool hunting coat that was my grandfather A.A. Tucci's. A.A. lived in Weston and was taught to hunt by my father after Dad married one of A.A.'s daughters, my mother Angela.
The coat is too small for me. Poppa was a short, muscular man. When I was small, I marveled at his 17-inch biceps. I would touch his flexed arm muscle and ask, "Poppa, what's that?"
He would answer, "That's a potato, Pasquale. You eata the potatoes and you get one too."
I suppose I never ate enough potatoes.
I have a number of other items that Dad used for hunting, including some pocket knives.
Dad could sharpen knives better than anybody I've ever known. In fact, he could sharpen a knife better than any electric sharpening device you can buy today.
Modern stones or devices meant for manual knife sharpening come with instructions that the knife is to be pushed, with appropriate pressure of course, blade-first along the surface. Dad used an old whetstone. He would spit onto the surface of the circular stone and then hone the blade by pushing and pulling it vertically. In other words, the blade's edge was moved back and forth in a butt-to-tip manner, first one side and then the other.
Those pocket knives field dressed enough bushytails over the years to fill dozens of quart jars with squirrel hearts. You have to have a significant number of years on you to remember that old joke between squirrel hunters.
I've written about hunting items here, but fishing gear gets involved too. I'm betting Tom Mathews of Cumberland still has some of the old bass plugs his father, Buzz, flipped from a drift boat to a likely spot on the Potomac River.
When you are younger, you are the recipient of these sorts of items. As you age, you are the giver. My grandson, Brady, Ryan's son, has some old lures and plugs that were used by my dad before me. Brady, 15, is an avid and accomplished angler. I told him that he reminded me of myself at that age when I could not get enough of fishing.
In any event, take a look around your closets or your garage or basement. Maybe there is a hunting or fishing item there that a family member or friend who is no longer with us had given you. Take it along next time you head to the river bank or tree stand. That way you won't be hunting alone.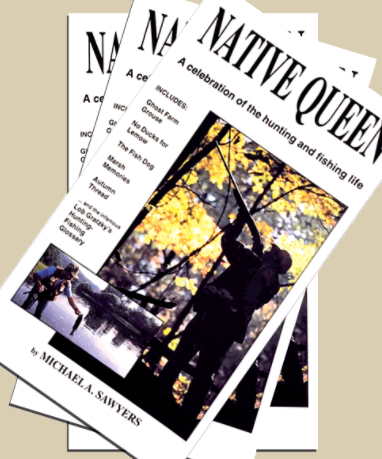 Mike Sawyers retired as outdoor editor of the Cumberland Times-News in 2018. His column now appears every other Saturday. To order his book, "Native Queen, a celebration of the hunting and fishing life, send him a check for $15 to 16415 Lakewood Drive, Rawlings, MD 21557.