CUMBERLAND — Wayne Foote put his own interests above those of other Allegany County Public Schools board members and staff, as well as the general public. That's part of the finding in a 40-page proposed decision the Cumberland Times-News received on Thursday after filing a Public Information Act request several weeks ago.
Maryland's Office of Administrative Hearings Administrative Law Judge Michael J. Wallace upheld the local school board's request to remove Foote for misconduct in office and willful neglect of duty. 
Foote violated county school board rules, regulations, policies, and some statutes, and did not refute any of the alleged transgressions "or provide any evidence in support of his position that he did not engage in misconduct," Wallace said. 
"Although the Respondent was elected to his position, the statute relied upon by the County Board authorizes removal from office for misconduct in office even for elected Board members," Wallace said in the document. "A public official must be held to a high standard of professionalism and must carry out his or her duties with integrity and a high degree of trust."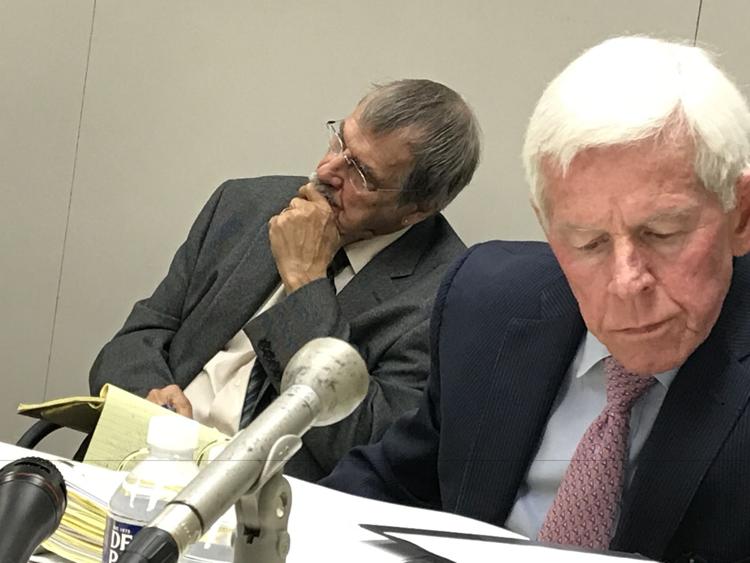 Background
The ACPS education board in December 2018 passed a resolution to request the state education board remove Foote.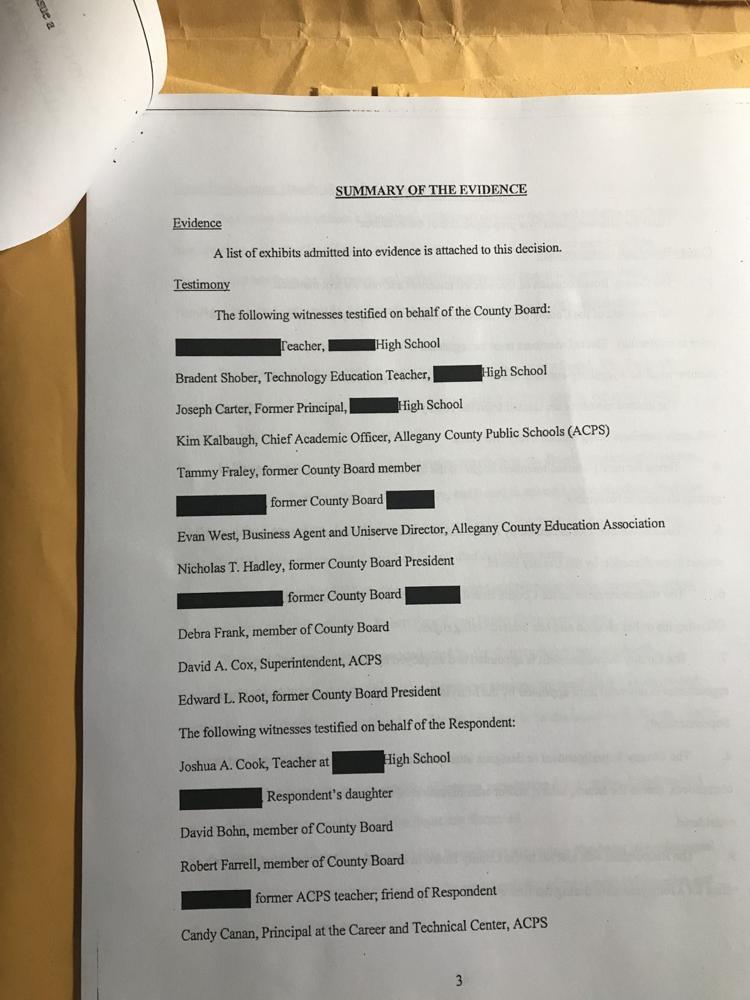 The state board investigated allegations — including sexual misconduct, intimidation and breaching the confidentiality of board discussions in executive session — against Foote and determined they were legally and factually sufficient to support charges against him.
The following month, Foote used a memorandum that cited lack of evidence as a basis for his fight to stay on the board. At that time, however, the memo was drafted by the board's interim attorneys before they learned of the detailed allegations against Foote.
Soon after, the state education board charged Foote with misconduct in office and willful neglect of duty.
In April, Wallace conducted a prehearing conference.
A two-day public hearing was held in July. 
Testimony
At any given time throughout the proceeding, a dozen folks, including reporters, members of the public and witnesses, were in a tiny room on the first floor of the Allegany County Museum where the hearing was held.
Several other people sat in an adjacent room, on the other side of an open door, to listen to the hearing.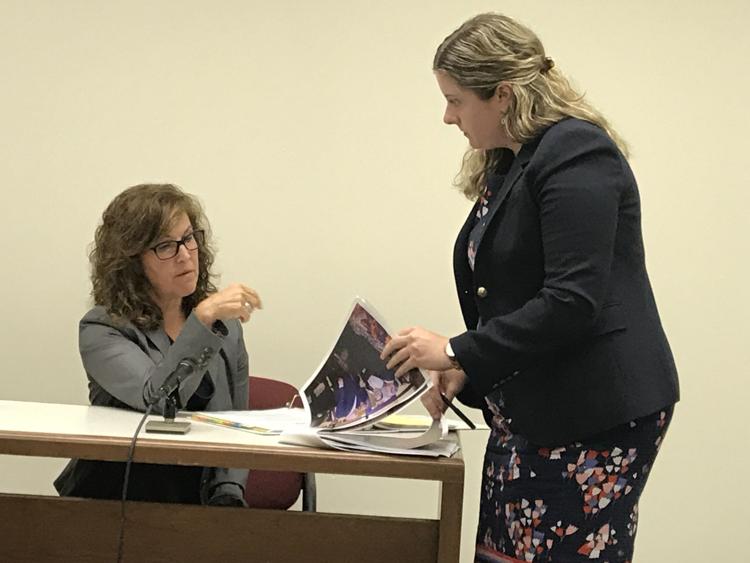 At the state's request, the room was cleared for the first witness due to a sensitive nature of testimony. The witness' name was not disclosed.
The doors to the hearing room remained closed for a second witness.
Other witnesses on the first day included former Fort Hill High School principal Joseph Carter, ACPS Chief Academic Officer Kim Kalbaugh, Evan West — UniServ director for education associations in Allegany and Garrett counties, and former school board members Laurie Marchini and Nicholas Hadley.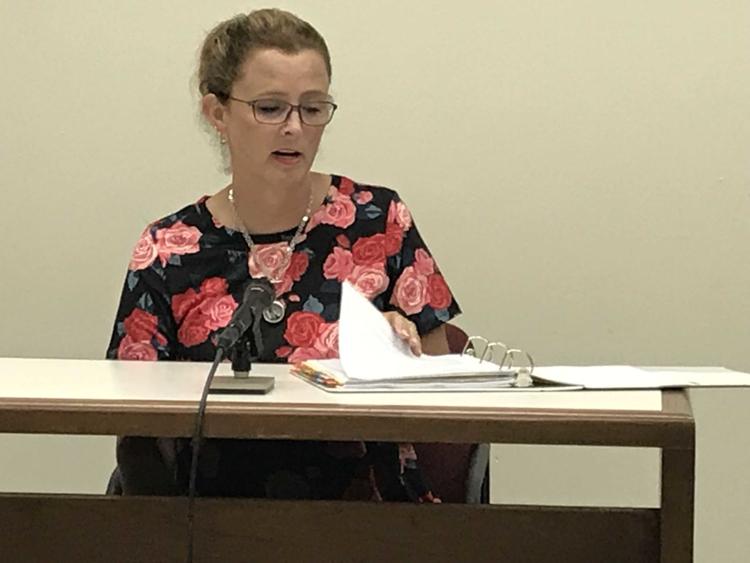 Witnesses the second day included former ACPS superintendent David Cox, former board president Edward Root, and former board president Sara-Beth Bittinger — who said she's known Foote most of her life and is distantly related to him.
Arguments
Karen Anderson-Scott, assistant attorney general, represented the Maryland State Department of Education at the hearing. On the second day of the hearing, she outlined events on a chart titled "Repeated Acts of Misconduct" that included April 2015 when Foote on WCBC Radio said he believed Mountain Ridge High School staff knew of former teacher Bart Mazer's inappropriate sexual relations with underage students. That was a violation of the board's executive session policy, Anderson-Scott said.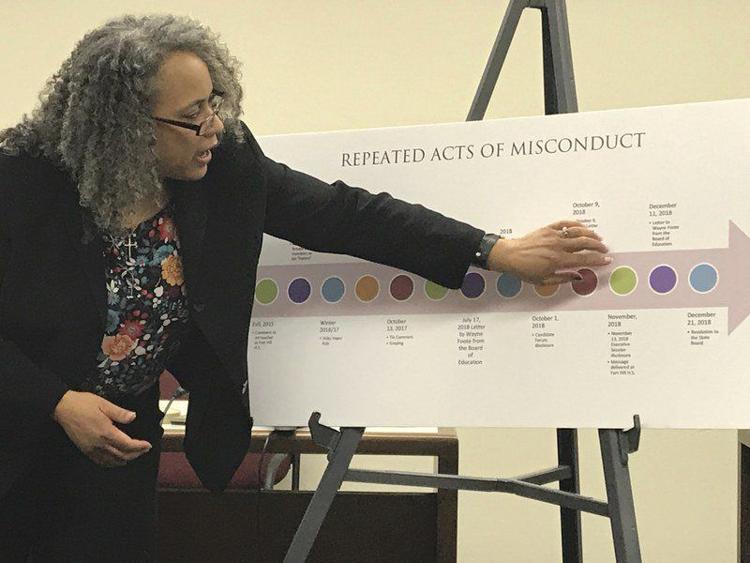 In fall 2015, Foote made a sexual comment to a teacher, with students in her classroom, about her reconstructive breast surgery, she said. 
In December 2016, Foote referred to female school board members as "his harem," Anderson-Scott said.
In the defense team's closing, Foote's attorney, Kelly Lynch, said the 2018 "lame duck" school board initiated a process to unseat Foote after it was clear he would be reelected for the 2019 term.
"They wanted to do one final thing," she said of the board passing a resolution in December that asked the state to remove Foote. "This is wrong."
The current school board has not tried to remove Foote, Lynch said.
Despite news reports last year of Foote's alleged inappropriate behavior, he was reelected, Lynch said.
"People knew about these things," she said. "It should be the electorate decision and the court should respect that."
Finding
Foote's failure to respect rules and laws that protect confidentiality, and his refusal to comply with positions adopted by the local school board with which he disagrees, have undermined the ability of his fellow board members to work with him, Wallace said. 
"I conclude that the Respondent's misconduct was substantial and harmful to the operations of the County Board and the school system," Wallace said and added that Foote's actions were intentional. "He repeatedly violated Board policies, rules in the Board Handbook, or clear instructions from the Board. He did not refute any of the allegations against him."
Foote also jeopardized ongoing criminal and civil investigations and undermined the willingness of individuals to use the executive process to conduct future board business by obliterating the confidentiality provisions, Wallace said. 
Foote's comments to the local radio station about the Mazer situation created an outcry in the community, Wallace said.
"Other teachers at that high school felt impugned by this statement feeling it was a baseless accusation by the Respondent that they were all derelict in their duty to contact Child Protective Services of the Allegany County Department of Social Services … when child abuse was suspected," Wallace said.
"The Respondent's ongoing pattern of sexual harassment and disclosure of confidential matters compromised the Board and exposed it and its members to lawsuits," he said. "The Respondent was on notice that his conduct was unacceptable as a Board member, but the pattern continued."
In a letter that accompanied the proposed decision, John Leidig, executive administrative law judge and deputy director of operations for the OAH said he made certain redactions that contain "personally identifiable information." 
Ultimately, the state education department will issue a final decision on the matter, he said.
"The parties have a right to file exceptions within (15) days with the Maryland State Department of Education," Leidig said.  
On Thursday, CTN requested comments on Wallace's proposed decision from Foote, ACPS Board President Robert Farrell, Vice President David Bohn and members Tammy Fraley and Deb Frank. None of them responded.