Editor's note: The Cumberland Times-News and Allegany County Lynching Truth and Reconciliation Committee collaborated for this article as part of an ongoing series, and will team to facilitate upcoming community discussions on topics including the history of the press in reporting racial terror lynchings.
CUMBERLAND — Lisa Byrd was born and raised in Cumberland, but until recently didn't know a black teenager was lynched in the city 114 years ago.
Byrd and roughly 60 other people were outside Emmanuel Episcopal Church Saturday for a Juneteenth remembrance ceremony for William Burns, 18, who was murdered at the site.
A historical marker will be placed at the location in the coming months.
"I had never even heard the story before," Byrd, who now lives in St. Mary's County, said.
Over time, the predominance of storytelling and record keeping were from the perspective of white, often wealthy communities, local historian Heidi Gardner said.
As stories were told, they were often miscommunicated, embellished or manipulated "even in reputable news sources," she told the Cumberland Times-News recently.
According to Gardner's research, in 1907 Burns was accused of killing a Cumberland Police officer, transported to the local jail and while he awaited trial, a mob abducted, beat and shot him to death.
Although several local officials were present, no one was ever held accountable for the lynching of Burns.
Cumberland resident Angel Israel, 13, also spoke at Saturday's event.
She too recently learned about William Burns.
"I was researching (and) I learned what lynching was and how it affected Black people," Angel said and added she was pleased to speak at the event. "I really love everyone being here."
Clory Jackson is founder of the Brownsville Project and a co-lead of the Allegany County Lynching Truth and Reconciliation Committee.
She helped plan Saturday's event, but couldn't attend.
"My husband and I have made a home in Brooklyn (New York) and normally enjoy frequent visits to my family home in Frostburg," Jackson said via email. "However, we are expecting the arrival of our first child very soon and felt it unwise to travel this late in the pregnancy."
A recording and photos of Saturday's ceremony will be posted at thebrownsvilleproject.com.
Juneteenth is about the celebration of freedom for African-Americans in the U.S., she said.
"On June 19, 1865, the last enslaved people learned of their freedom," Jackson said. "This was more than two years after the Emancipation Proclamation. Since then, African-Americans have used this day to remember ways in which we've continued to find liberation and joy in spite of the challenges we continue to face when it comes to equity and justice."
She said she's pleased Juneteenth is now a federal holiday.
"The Remembrance Ceremony followed in the Juneteenth tradition through the sharing of oral history, honoring ancestors like William Burns, hearing from our youth on the state of racial justice in the U.S. today, and the singing of traditional African-American hymns that signify our freedom journey," Jackson said.
ACLTRC is grateful to have been part of the overall Juneteenth celebration that was hosted by the Allegany County NAACP #7007, she said.
Baltimore County resident Will Schwarz, president of the Maryland Lynching Memorial Project, was at Saturday's event to address lynching history in Maryland and across the country.
Of more than 4,000 Black Americans lynched in the U.S. between 1865 and 1950, at least 40 were in Maryland.
"It was domestic terrorism," he said. "We still see the fingerprints of white supremacy everywhere."
He also commended the ACLTRC's work to acknowledge and memorialize Burns, and help area residents reconcile with intergenerational harm caused by lynching and other violent acts against the African-American community.
"All of this work, it has to be done at the local (level)," Schwarz said.
Communities need to "take an honest look at the history … and do something about it," Schwarz said. "It's an exercise in empathy."
The service also recognized winners of the Equal Justice Initiative Racial Justice Essay Contest, which was open to Allegany County Public Schools students in grades 9-12.
Mountain Ridge High School junior Ava Breighner read her winning essay "Inequality and Erasure in Education."
Other contest winners were Elizabeth Marchbank, Ashlynn Cooper, Sofiia Kucher and Robert Moffett.
Emmanuel Episcopal Church Rev. Martha Macgill said celebration of Juneteenth is important for all faiths and talked of the need for "justice and peace."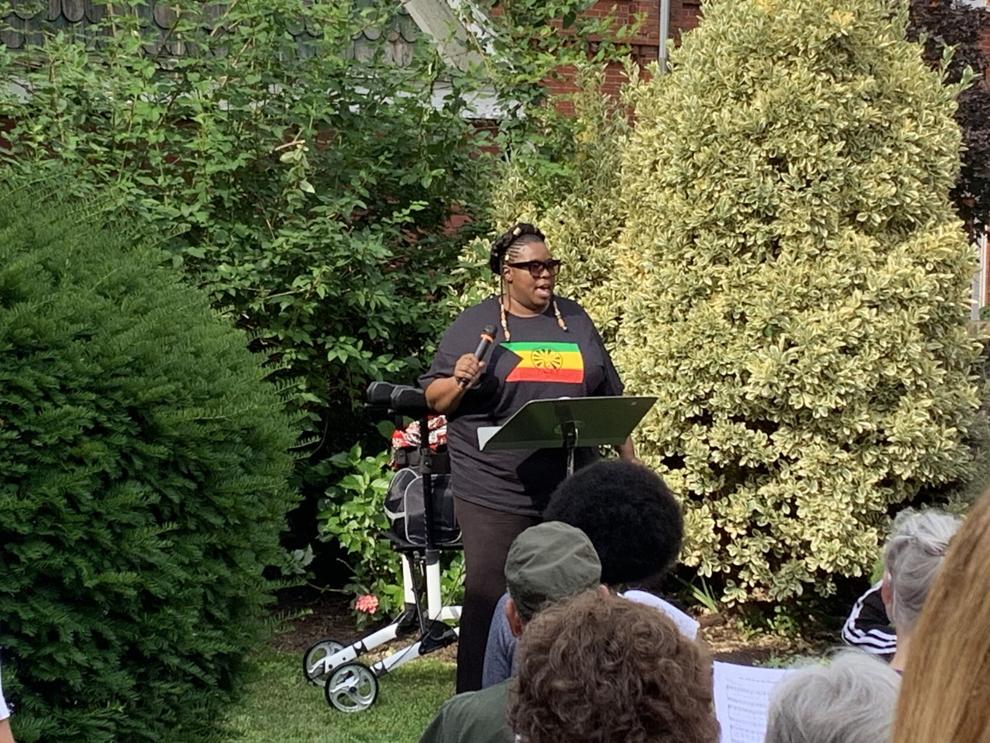 Tifani Fisher, president of the Allegany County NAACP branch, talked of the community's history.
"William Burns is a part of that story," she said.