OAKLAND — Soon after being selected, 12 jurors and three alternates heard a variety of details — including accounts of cemetery picnics with ferrets — in the Megan Shaffer murder trial, which began today and is set to continue through Friday in Garrett County Circuit Court.
Shaffer, 21, of Ridgeley, West Virginia, is charged with second-degree murder, manslaughter and assisting another to commit or attempt to commit suicide in the death of Alexander Stevens, 24, of Frostburg.
Stevens was found, naked, with his throat slashed and at the bottom of a cliff, known as High Rock, dead on Jan. 4 last year within the Savage River State Forest in Garrett County near Pine Swamp Road.
In December, Shaffer entered a not guilty plea to each count.
Dense snow flurried Tuesday afternoon outside tall windows of the neo-classical Renaissance Revival courthouse while Garrett County Circuit Court Judge Raymond Strubin presided over the six men and nine women who heard testimony from four witnesses.
The trial will not stick "to a school schedule," Strubin said and told the jurors to plan to be at the courthouse Wednesday morning despite the forecast for more wintry weather.
The jurors range in age from a male who appears to be in his early to mid-20s, to some early Baby Boomers.
The proceedings began with opening statements from Garrett County State's Attorney Lisa Thayer Welch and Shaffer's lawyer, Stephen R. Tully of Towson-based Seigel, Tully, Rouhana & Tully.
Welch, wearing a navy and white pinstripe business suit, was first at the podium.
She talked of Stevens as a college student and worker who lived in his own apartment and was searching for ways to increase his spiritual awakening.
Welch said Shaffer told various stories of how Stevens ended up dead and "settled on" a claim that he pulled her off the cliff. While she held a knife in his hand, he grabbed it back and cut his own throat.
"She chose to tell lies," Welch said of Shaffer. "This is not a suicide."
Tully donned a red, white and blue necktie and gave the jurors a dramatic lecture on the Bill of Rights as it pertains to their duty to consider "a very high burden of proof" the prosecution must present.
"Use your common sense!" Tully shouted. "Reserve your judgment!" 
Stevens was "tossed out" of the Coast Guard Academy because of drinking problems, Tully said.
"He was exploring drug use," Tully said of Stevens.
Stevens took the knife (that killed him) from his home along with things to be burned and headed to the top of High Rock with Shaffer to "purify their lives," Tully said.
Steven Moon, a computer science lecturer at Frostburg State University, was the first witness called. The young man, tall, slender with red head and facial hair, said he and Stevens had been "best friends since middle school" and have since corresponded regularly.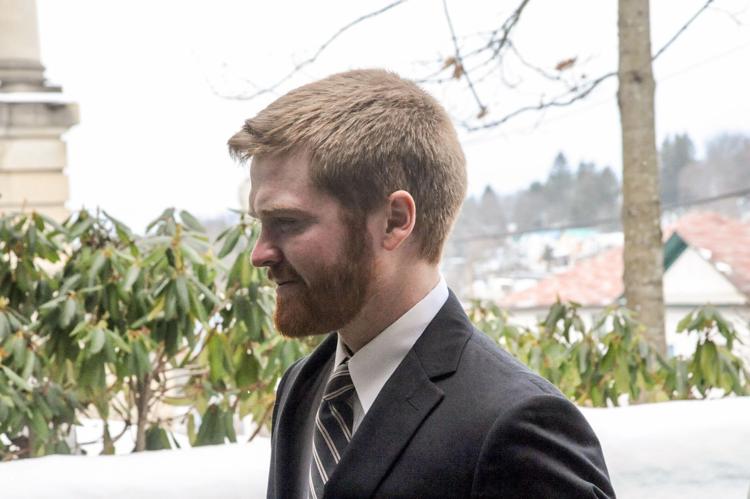 Tristan Stevens, twin sister of Alexander Stevens, contacted Moon on Jan. 3, 2017, to ask if he knew the whereabouts of her brother.
Moon said he and Tristan Stevens had been in a relationship and are now friends.
Moon said he tried to call Alexander Stevens but got no response, so he considered looking for him at two places they used to frequent. 
One place, Moon said, was a local cemetery where he and Alexander Stevens would have picnics.
Alexander Stevens "would bring his ferrets with him," Moon said of the graveyard meals.
But Moon chose to go to the other place, High Rock, because Alexander Stevens had recently asked him for a text message that included coordinates for the spot. 
When he arrived at the base of the trail to High Rock, Moon saw his friend's car and another vehicle he didn't recognize. That car would later be identified as belonging to Megan Shaffer.
It was the middle of night and raining, Moon said. He used his cellphone as a flashlight to hike roughly a mile to the top of the hill where he found melted candles and a backpack, that felt greasy, filled with clothing.
The pack was beside a motor oil container and a cat, which Alexander Stevens had recently adopted from an animal shelter, in a pet carrier. Nearby was a collar for the cat and "soaked towels" on the rocks, Moon said.
Inside the pack were jeans, a belt and eyeglasses Moon said he recognized as belonging to Alexander Stevens, as well as female undergarments. 
Moon climbed an old fire tower near the rocks, but fog and dark prevented him from seeing much of anything, he said. 
"I took the cat with me," Moon said and added he texted Alexander Stevens, "I have your cat," but got no response, so he took the animal to the parents of the Stevens twins.
Moon said he went back to his home at about 2 a.m. and got a call from Garrett officials, telling him to return to the High Rock area at 7 a.m., now Jan. 4.
Moon said he was later interviewed by the Combined County Criminal Investigation Unit, known as C3I.
Moon also said he'd met Shaffer a couple of times and knew she and Alexander Stevens had dated but broke up and became "just friends."
Moon said he and Alexander Stevens would "hang out and talk" about a variety of things. 
"He didn't want to harm animals," Moon said of his late friend. That care extended to plants as well, Moon said and added Alexander Stevens ate a "fruitarian" diet and had lost weight.
Moon said he last spoke to Alexander Stevens two days before his death. The conversation was positive and his friend had plans to get his college degree and write music.
However, Tully pointed out that Moon had told police on Jan. 4, 2017, he believed Alexander Stevens had gone to High Rock to kill himself.
Tully also said a dog, that belonged to Janet Stevens, mother of Alexander Stevens, was found in a cage on Jan. 3, 2017, in the cemetery where Alexander Stevens and Moon used to picnic.
Tully said Moon also told police Alexander Stevens had hallucinated from using LSD and cough syrup.
Upon questioning from Tully, Moon said he knew Alexander Stevens had a bad temper, was fighting with his parents and once smashed a guitar into a TV.
"He went through phases (but) was improving," Moon said of Alexander Stevens.
A month before his death, Alexander Stevens was "pretty much clean" of drugs and alcohol, Moon said.
Other testimony came from Christopher Biggs - an Allegany County Department of Emergency Services paramedic and training officer, Maryland Natural Resources Police Cpl. Robert Mayles and Maryland State Police Sgt. Michael Sigmund.
Sigmund opened a box that had been sealed as evidence and said, "this is the red-colored knife" he found in water near the dead, facedown, naked body of Alexander Stevens.
The jurors reviewed photos of Stevens, and the knife, taken at the crime scene. 
The trial proceeds 9:30 a.m. Wednesday.
••••••••••••••• -30- •••••••••••••••
Check back at times-news.com for our continuing coverage.