FROSTBURG — A Mount Savage man who retired as the 13th sergeant major of the Army told faculty and staff at Frostburg State University on Wednesday that he fell in love with his military career.
"I realized that the Army was offering me and my family as good or better a life than was available in the civilian world," Kenneth O. Preston said during the university's Leadership Faculty/Staff Development Conference.
Preston said that rising through the ranks, "starting in the mailroom," is helpful for a person who seeks to become a leader.
And Preston did just that, ending his 36-year career as the highest ranking non-commissioned officer in the Army, a position he held for seven years.
"Leaders are grown. Leadership is an art. Development takes time," Preston told the FSU audience at the Lane Center.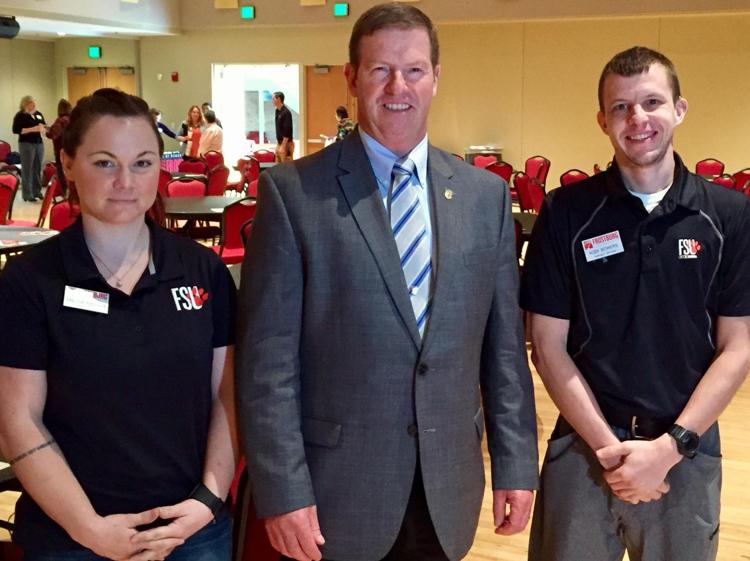 Growing up in Mount Savage, as well as Frostburg and Pocahontas, Pennsylvania, was valuable to his career, Preston said, teaching him self-reliance and the value of a strong work ethic. His mother served in the Air Force and his father in the Army.
"If you are going to pick somebody's brain about leadership, he has to be the one," said Vanessa Robosson about Preston.
Robosson, Flintstone, is vice president of the FSU chapter of Student Veterans of America. She served six years in the Army including tours of Iraq and Afghanistan.
"I became the product of all the leaders I worked for," Preston said. "Developing leaders need to know they are an important and valued part of a team. But they also have to know their strengths and weaknesses."
Preston said leaders need to have done all the tasks they ask those under their charge to perform. And they need to be excellent communicators.
"Nine of the 11 principles of leadership deal with communication," Preston said.
Preston's resume is powerful, but he said he was a shy youngster.
"I would rarely raise my hand to answer a question in school. If I had to answer I would get tongue-tied."
From that reticent background, however, a rural kid rose to a career that took him around the planet and put him in charge of every non-commissioned solder in the Army.
As a child, Preston delivered 88 copies of Cumberland News each morning and 86 copies of Cumberland Evening Times every evening in Mount Savage.
Preston and his wife, Karen, graduated from Mount Savage High School in May of 1975 and the following month he enlisted.
"Leadership is learned," Preston said.
•••
Know of a good candidate for CTN's Home Grown series? Email Mike Sawyers at msawyers@times-news.com.