CUMBERLAND — It took 13 years for Allegany County to get a new boat ramp. Despite the long wait, there's already talk of building the next one.
Light rain fell while officials from local and state agencies on Wednesday celebrated the Upper Potomac Boat Ramp's opening. 
The ramp, located near the Upper Potomac Industrial Park off of U.S. Route 220 near the county fairgrounds, was created by Maryland's Waterways Improvement Fund, which is supported by the state's boat excise tax.
Alice Scanlon is a regional administrator for the Center for Waterway Improvement and Infrastructure, Maryland Department of Natural Resources Chesapeake and Coastal Service.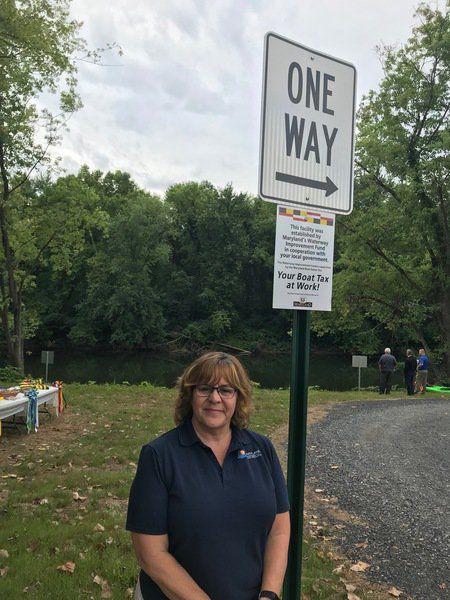 "It's been a year in the works," she said of the process to bring the Upper Potomac Boat Ramp to fruition. Organizations including the Allegany County Department of Public Works, Maryland Department of Environment and DNR staff collaborated on the project.
"It's an additional ramp downstream from the fairgrounds' ramp," Scanlon said. "It's really exciting when we can do something for Western Maryland's (boating) access."
Allegany County Commission President Jake Shade thanked DNR officials for funding the roughly $54,000 project. 
DNR Assistant Secretary Bill Anderson said the new ramp will contribute to Maryland's recreational boating and marine-related industry, which contributes about $2.4 billion to Maryland's economy, and includes 13,000 jobs, every year. 
He credited folks who worked on the boat ramp project for being efficient. 
"Good things happen when the state and counties work together," Anderson said.
Allegany County Tourism Director Ashli Workman talked of the "great opportunity" for the boat ramp to enhance outdoor recreation in the area. 
Mark Yoder, senior project manager for the county's Department of Public Works Utilities Division, helped design the ramp.
"It is a wonderful collaborative project," he said and added that the county provided the labor. 
Large rocks and gravel were bought locally, and the county roads department made signs for the ramp, Yoder said. 
Visitors to the ramp must adhere to parking signs so as not to block traffic to and from an adjacent business, he said.
Yoder said his department and DNR officials have discussed building another boat ramp in the county.
"We're looking for a location," Yoder said and added he's talked to landowners between the Pinto and Rawlings areas. While nobody said they're ready to sell property right now, some said "call me in six months."