Think of it as legislative fine print or maybe the speed reader at the end of a radio commercial whose larynx tachometer is about to redline.
Squirreled away in House Bill 126, that made a successful journey through the Maryland General Assembly this year, was wording that requires landowners to wear blaze orange even while hunting on their own properties during the appropriate firearm seasons.
The bill was submitted at the request of the Department of Natural Resources.
Until now, landowners had been exempted from the garment rule.
You can read it for yourself on page 53 of the 2017-2018 Maryland Guide to Hunting & Trapping.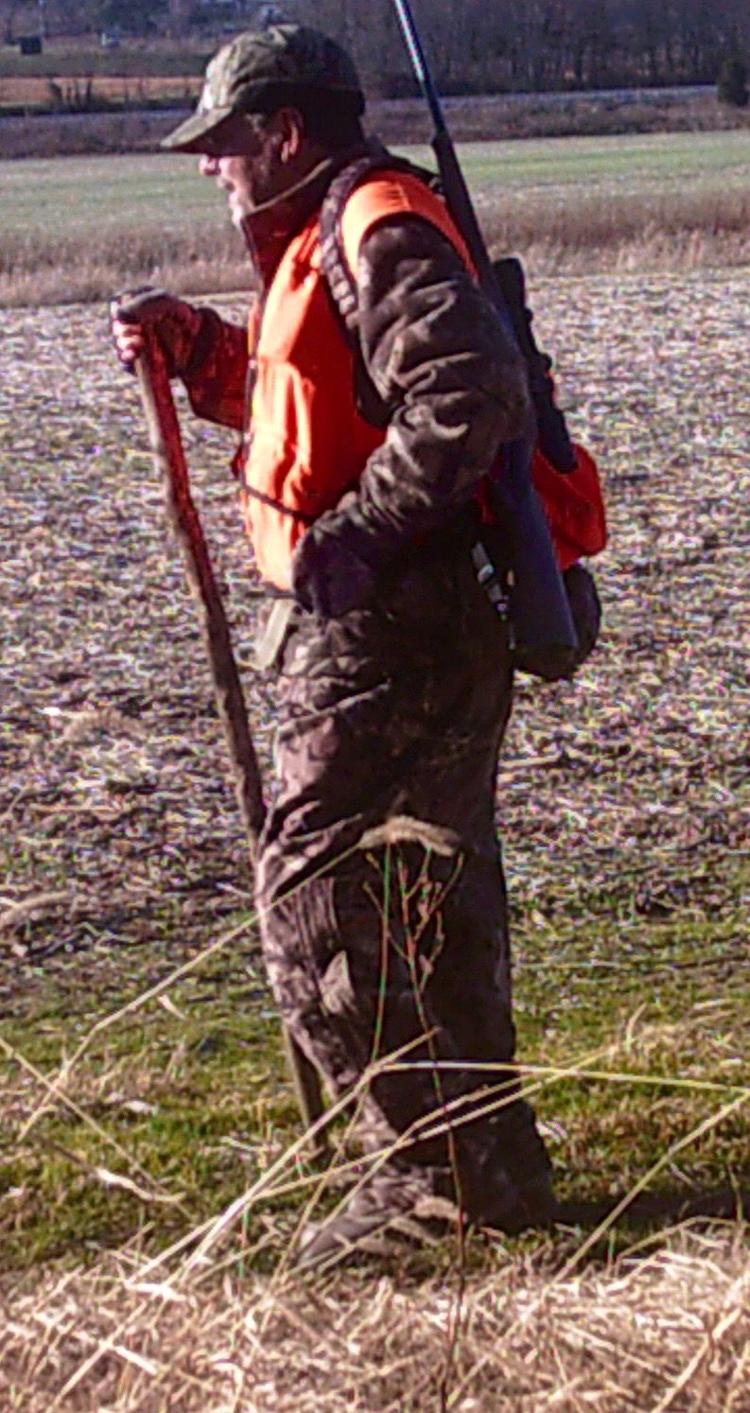 Edward Robinette Jr. is president of the Allegany County Farm Bureau. He said on Thursday that he wasn't aware of the new regulation and believes that the information has not yet filtered down to local farmers.
"But, speaking for myself," Robinette said, "I wear it."
Robinette said his farm is in eastern Allegany County and borders the Green Ridge State Forest, a popular public hunting area.
"I always wear orange when I go into my woods to hunt deer," Robinette said. "I don't wear it when I'm out tending the cows, but then I'm usually in a field and not the woods."
The new regulation applies not only during the deer firearms and muzzleloader seasons, but during seasons for squirrel, grouse and rabbits as well.
Joe Schroyer, a Garrett County resident, is also a member of the Maryland Wildlife Advisory Commission, a citizen group that advises the state's Wildlife & Heritage Service.
Schroyer said the commission reviewed HB 126 during the legislative session, but the orange wording must have slipped by that group as well.
"I don't remember that part of the bill," Schroyer said.
But, like Robinette, Schroyer believes wearing orange is a responsible action.
"You might own 500 acres, but if you are hunting near your fence line without wearing orange then that's nuts," Schroyer said. "Your neighbor may have no idea you are there and could shoot in that direction. I don't see a problem with it. Why put your life at risk?"
Schroyer said he knows landowners who wear orange during hunting season even when they go outside to cut wood.
Colby Ferguson, government relations director for the Maryland Farm Bureau in Davidsonville, said the bureau was unaware that the orange regulation was proposed during the General Assembly session.
Ferguson points out, however, that until this year, only the landowner was exempt from wearing orange.
"If you were a son, grandson, spouse, employee or farmer renting the ground, you were already required to wear orange. All the bill did is remove the exemption for the owner of the property," Ferguson said.
"Our people came to the conclusion that it just didn't make sense to require everybody in the landowner's hunting party to wear orange, but not the landowner," said Stephen Schatz, DNR's director of communications.
"We understand that it is apparently a surprise to some folks, but the emphasis this year will be on education about the change and not on enforcement," Schatz said.  
•••
Train hits truck in Garrett County https://t.co/k1Lxv1EVht

— Mike Sawyers (@CTNMikeSawyers) August 3, 2017
There's new rule for wearing orange while hunting Md. My column at https://t.co/6BI6FTlcb1 later this afternoon. @MDDNRWildlife @MDNRPolice pic.twitter.com/c9s2VXUPqy

— Mike Sawyers (@CTNMikeSawyers) August 3, 2017
Bald eagle injured on Interstate 68 taken to recovery center. My story here https://t.co/twcvp3E0xY @MDDNRWildlife @MDNRPolice pic.twitter.com/zJ7FGptVrS

— Mike Sawyers (@CTNMikeSawyers) August 2, 2017
Goose meat feeds the needy https://t.co/8AhlzDwdGY #Locavore pic.twitter.com/qXCnxeoC4h

— Mike Sawyers (@CTNMikeSawyers) August 1, 2017
Last day of July and antlers are nearly done growing #Practice pic.twitter.com/hmbPyRise3

— Mike Sawyers (@CTNMikeSawyers) July 31, 2017
Only 40 days until @MDDNRWildlife bow season opens on Sept. 8 #Practice pic.twitter.com/u3oZ8YzBfQ

— Mike Sawyers (@CTNMikeSawyers) July 31, 2017
Do you want to be a @WVNRP officer? https://t.co/f4hVuTLjJn pic.twitter.com/XinSrAKNII

— Mike Sawyers (@CTNMikeSawyers) July 30, 2017
Pa. cops use trail camera to get evidence for arrest https://t.co/zWTrCa7gNP #SomersetCounty pic.twitter.com/1y3OWsdp5M

— Mike Sawyers (@CTNMikeSawyers) July 29, 2017