FROSTBURG — Did you drink Tang? Was it more fun or scary? How did you take a shower?
Those were some of the questions Allegany and Garrett County middle school students asked NASA astronaut Ricky Arnold.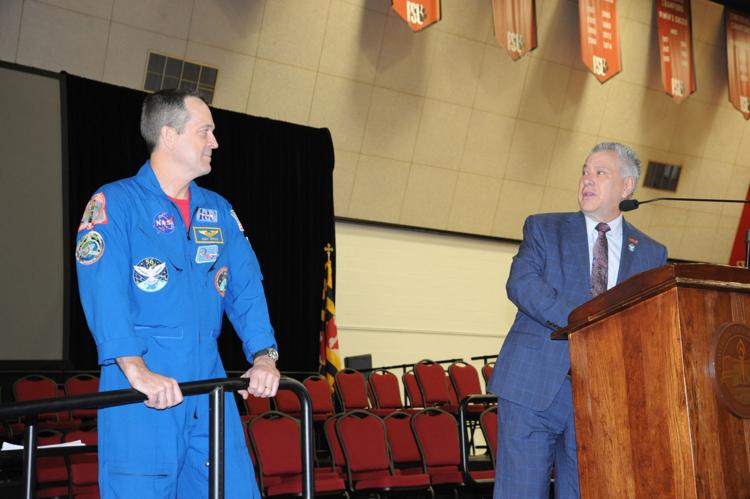 Arnold — a 1985 Frostburg State University graduate — is set to receive an honorary Doctor of Science degree and speak at FSU's graduation ceremony on Thursday.
On Wednesday, he talked of his experiences in space to roughy 1,600 students and teachers at FSU's Cordts Physical Education Center Main Arena.
Arnold's presentation included a video with clips from the nearly seven months he spent on the International Space Station last year.
"Earth is our home and we are all in this together," he told the crowd.
Arnold, a former science and mathematics teacher at schools around the world, was selected as an astronaut by NASA in May 2004. 
He has spent 209 days in space, conducted five spacewalks and completed a mission as an aquanaut where he lived and worked in an undersea laboratory.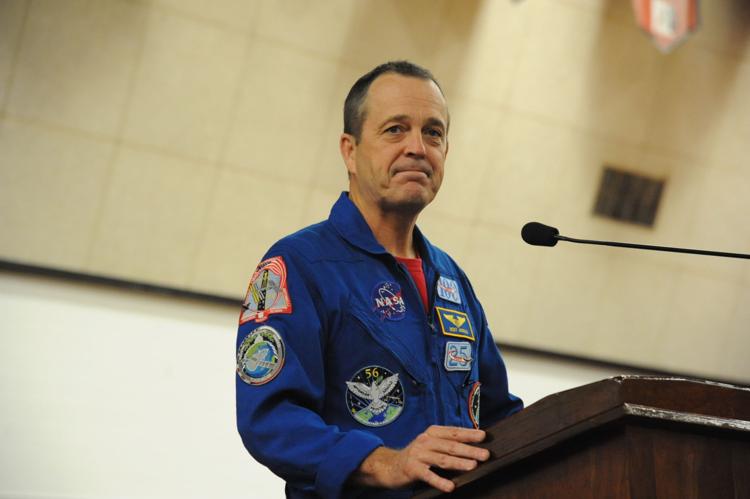 Last year, he spent 197 days in a confined space as a flight engineer in the ISS as part of expeditions that involved educational downlink events to schools, including one on the FSU campus.
While in space, he experienced 16 sunrises and sunsets per day, he said, and talked of flying over areas, including his home in Houston, the Andes Mountains and salt flats in South America.
Arnold also talked of the importance of teamwork.
"We operate like a family up there," Arnold said of working with astronauts from around the world.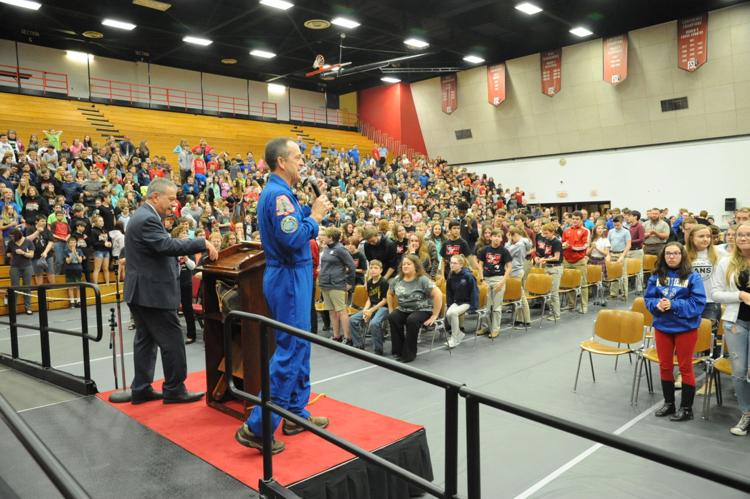 "What does the future hold for you?" he asked the students. "There (are) amazing opportunities for each and every one of you."
That message resonated with Northern Middle School eighth-grader Marcus Schmidt, 15.
"Actually, I want to be an astronaut," he said and added that's been his plan for a while, and Arnold's talk made him "want to do it even more now."
Anna Major, 14, also in eighth grade at Northern, liked Arnold's message, "You can do whatever you want."
She plans to be an anesthesiologist and was happy to see in Arnold's video presentation a woman doctor astronaut.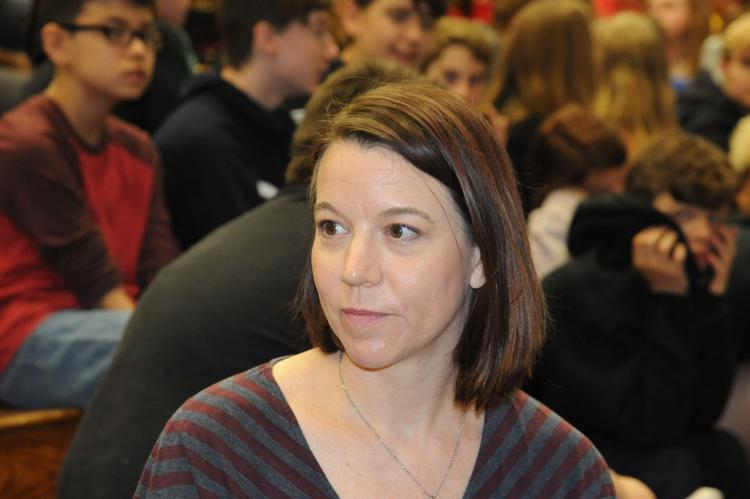 Melissa Kaye is a Science, Technology, Engineering and Mathematics coordinator for Allegany County Public Schools. Events such as Arnold's talk help inspire students to pursue STEM fields, she said.
"We still see middle school as that pivot point," Kaye said of especially female students who start to lose interest in STEM areas. "We want … to encourage girls to stay in STEM."
•••
Girls Who Code
A new training program, "Girls Who Code," will be held this summer for girls entering sixth, seventh or eighth grades and include camps, staffed by females, that will teach computer language in Cumberland and Frostburg. To learn more, email melissa.kaye@acpsmd.org.