CUMBERLAND — After using her cell phone to videotape a growing crowd and booth-lined streets, Lily Fisher talked of being surrounded by people who understand the need to be true to themselves.
Fisher, of Short Gap, West Virginia, was at the third annual Cumberland Pride festival downtown on Sunday.
Although she was at the events in 2017 and 2018, this year's festival marked a special occasion. 
"This Pride means a lot to me because it's my third year transitioned," Fisher said. 
During the transition process, she didn't receive emotional support from relatives, but Fisher worked to legally change her name and live as a woman.
"I've always considered myself a natural-born woman (so) I never gave up," she said of transitioning. "I was totally rejected by my family (but now) I have my LGBT family,"
While the Pride festivals are fun, they also help educate the public, Fisher said.
"After each and every Pride, it's gotten easier and more accepting," she said of people's perception of her. "The LGBT community has helped me rediscover myself … It kind of creates a bond because you can relate to that person."
And when folks are free to live without judgment, everyone benefits, said Midland resident Kaylien Beeman, 17. She was at the event with her sister Trinitie, 14.
"By letting everyone live their truth, it'll make the world a better place," Kaylien said.
"Diversity is our strength, and we must continue to celebrate what makes communities great," said Taylor Donoghue, senior field representative for Congressman David Trone. On behalf of the "entire federal delegation," he presented a certificate that recognizes Cumberland Pride 2019 to event organizers Jacqie McKenzie and Ian Robinson.
Cumberland Mayor Ray Morriss talked of the event's good karma created by a diverse and inclusive community.  
"We are so proud to have you here today," Morriss said and thanked folks that made the event happen. "I can tell you that behind the scenes, this takes a lot of work and these people have done a wonderful job."
Downtown Manager Mikayla Dodge said Sunday's event was well-attended and included more people than last year's Pride.
"This is amazing," she said and added the event is the largest Cumberland has had so far this year. "I could not be more happy."
Several drag queens performed at the festival.
"These queens are all volunteering their time and services," McKenzie said. "All of the hard work that goes into the costumes and the performances … it's an amazing art form."
McKenzie said the number of vendors at the event nearly tripled since Cumberland Pride 2017.
"This year we have over 90," she said. "All are welcome here and we are really excited that the community has been so accepting and supportive."
Vendors included AARP, IBM and Western Maryland Jaycees.
Kristy Richmond of Frostburg was at the festival with Iron Mountain Roller Girls — a non-profit derby team that had a booth at Pride.
"We are all inclusive with our league," she said. "Everyone is welcome."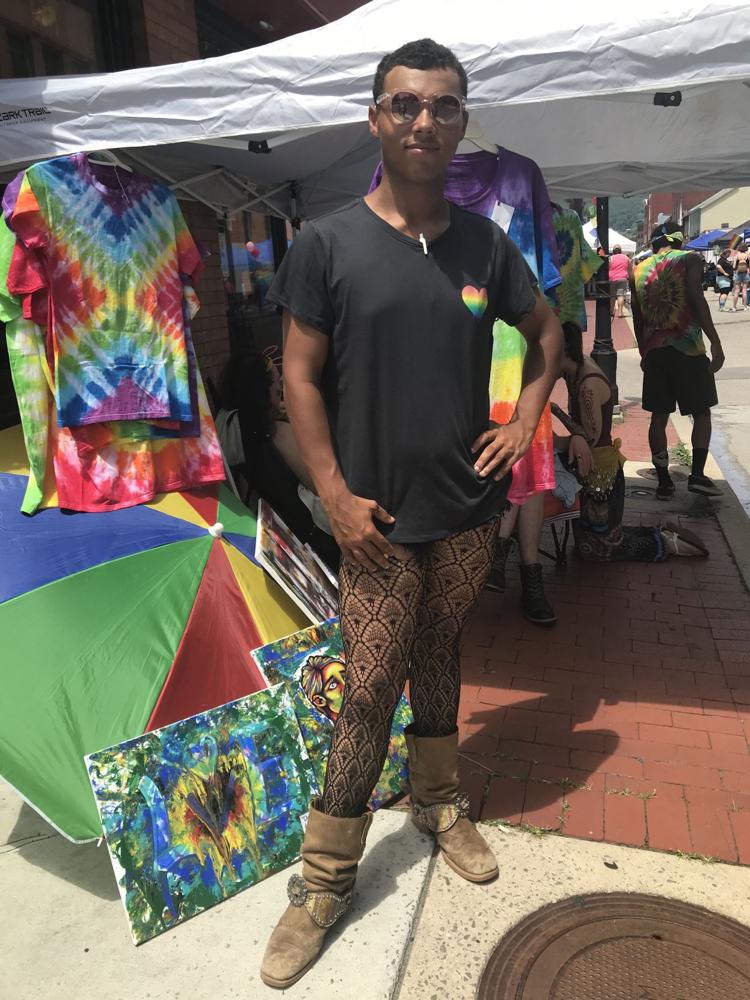 Flintstone resident Lexus Russell said people are kind and friendly at the annual festivals.
"I just love it and I support it," Russell said of Pride.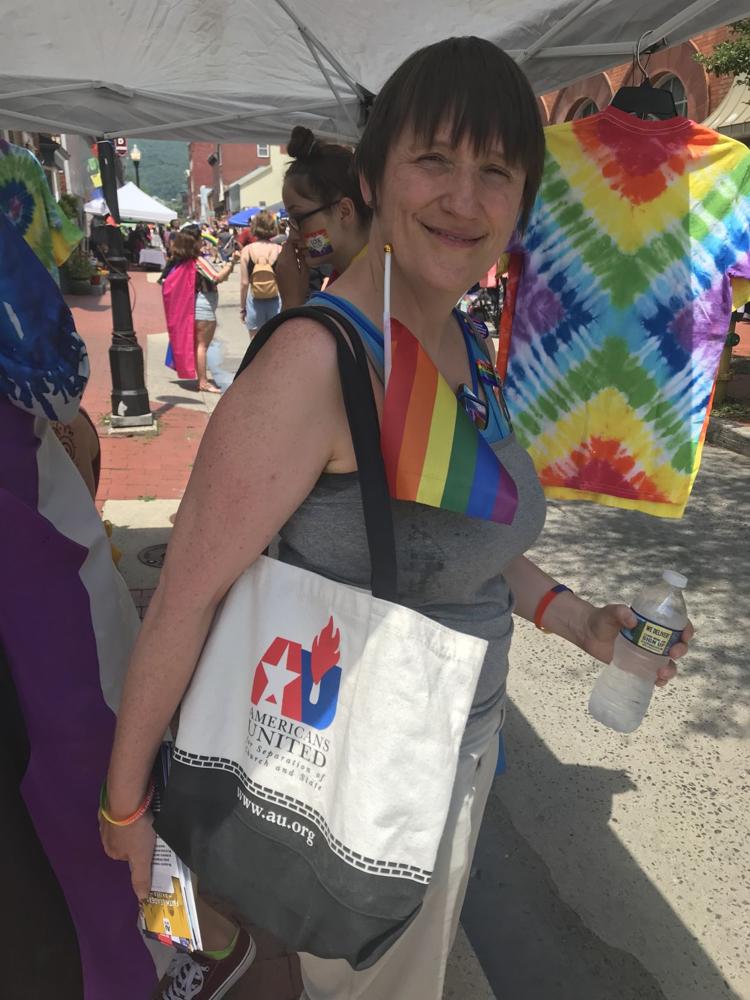 Howard County resident Marjeta Cedilnik was at Pride to promote Americans United for Separation of Church and State. She donned a "Love is greater than hate," temporary tattoo she got at the festival.
The Allegany County Health Department provided free HIV testing, and promoted use of the PREP pill that helps prevent the virus.
Barbara Gladem, of Cumberland, wore a T-Shirt that read, "Free aunt hugs," to the festival.
"My nephew is trans," she said. "The world would be a better place if everyone (were) accepting."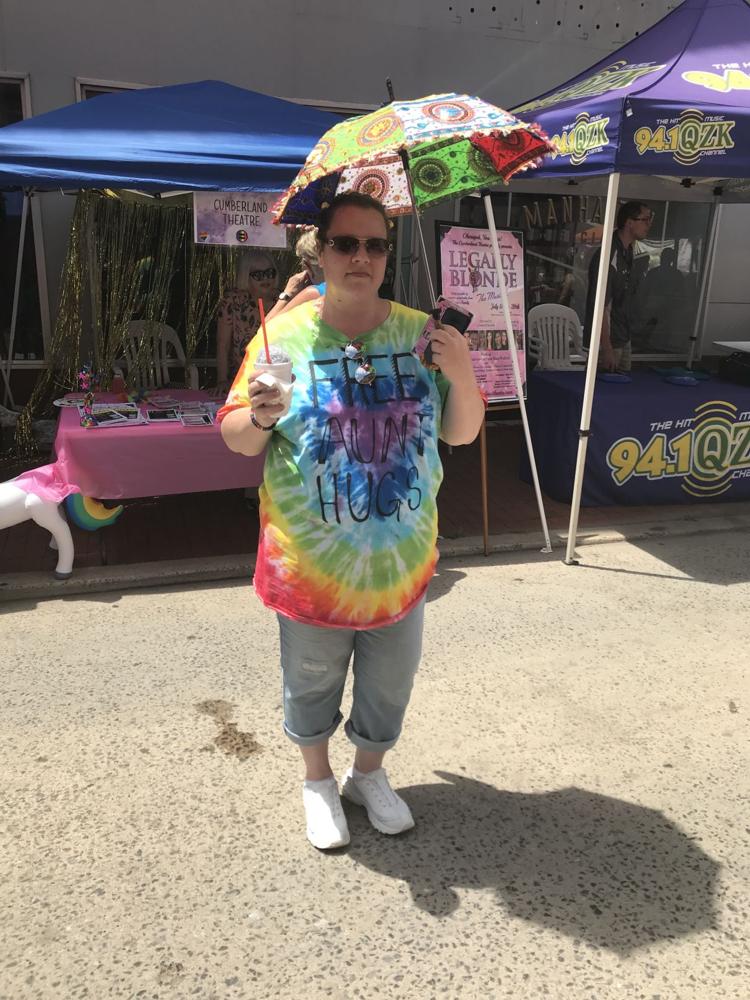 This year's Pride was "bigger and better than ever," said Chris Moore, a member of the Unitarian Universalist Fellowship of Cumberland. 
Locally and across the country, people are becoming more welcoming to the LGBT community, he said.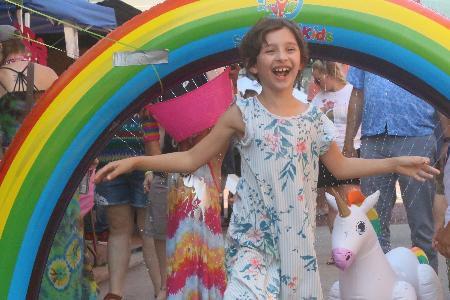 Moore talked of the 50th anniversary of the Stonewall riots that led to the gay liberation movement. 
"In that 50 years, it's just amazing to see what has happened," he said. "Attitudes have shifted."