UPDATE, 9:30 a.m.: Rain factored in Monday night's tractor-trailer crash on westbound Interstate 68 that sent the rig into a light pole and then over the guardrail near the former Geatz's restaurant location, according to the Cumberland Police Department.
It was 8:30 p.m. when the rig operated by 23-year-old Barah Nafiz Massri, of Nashville, Tennessee, traveled out of control on the wet road surface and then crashed into a light pole before "getting hung up" on the guardrail near the Beall Street exit, police said.
The driver was treated at the scene by Cumberland Fire Department ambulance personnel before he was taken to the Western Maryland Regional Medical Center for further treatment. No information was available on Massri's condition, who was able to be interviewed at the hospital by police officers.
The crash closed the westbound lanes for several hours until three heavy-duty tow trucks worked to remove the wrecked rig after it came to rest on the ground at South Smallwood Street.
The Allegany County Hazardous Incident Response Team responded to the scene along with Potomac Edison personnel for "hot wires'' that were downed at the crash location.
State Highway Administration also responded to the crash that remains under investigation by Cumberland Police.
"It's a location where I have seen several truck accidents during my career," Cumberland Police Sgt. Eric Bonner said.
The westbound lanes were reportedly reopened shortly after 1 a.m. to resume normal traffic flow.
CUMBERLAND — A tractor-trailer driver was injured Monday night when his rig crashed through a guardrail on Interstate 68.
The accident in the westbound lanes near the Beall Street exit happened about 8:30 p.m., sending the truck tumbling over the embankment. It came to rest near the parking lot of a South Smallwood Street business.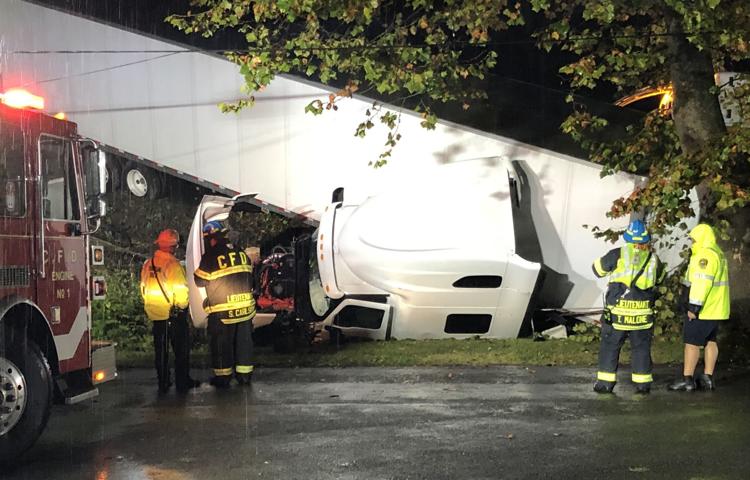 Information about the driver was not immediately available.
In addition to Cumberland police and fire departments, the Allegany County hazardous materials team and fire police, State Highway Administration and Potomac Edison were at the scene.
Traffic was diverted through the city as tow companies removed the vehicle.
The interstate reopened about 1:20 a.m. Tuesday.