CUMBERLAND, Md. — Local ambulances temporarily had to travel up to 75 minutes away Wednesday as UPMC Western Maryland deflected patients to other hospitals possibly due to COVID-19, but exact reasons for the situation were not immediately provided.
Allegany County Department of Emergency Services radio communications shortly after 5 p.m. said the facility was "on diversion" and accepting only patients with life-threatening conditions including stroke and trauma.
Within minutes, an ambulance that responded to a vehicle accident on Route 51 was rerouted to War Memorial Hospital in Berkeley Springs, West Virginia.
Other ambulances were sent to Potomac Valley Hospital in Keyser, West Virginia, and J.W. Ruby Memorial Hospital in Morgantown, West Virginia.
"(UPMC Western Maryland has) had a lot of patients come in," Mark Boucot, president and chief executive officer of Garrett Regional Medical Center and PVH, said via text message Wednesday evening. "My heart goes out to them."
Boucot said the volume of patients in his hospital emergency departments was starting to increase, but the facilities were not in diversion mode at that time.
GRMC and PVH were full and enacted emergency operation plans, he said.
Additionally, they opened their Same Day Surgery department to care for additional patients, Boucot said.
"The whole region is in critical status," he said.
According to the Maryland Institute for Emergency Medical Services Systems website Wednesday evening, UPMC Western Maryland was on "Yellow Alert," which means the emergency department temporarily requested it receive "absolutely no patients in need of urgent medical care."
Yellow alert is initiated because the emergency department is experiencing a "temporary overwhelming overload such that priority II and III patients may not be managed safely," it stated.
"Prior to diverting pediatric patients, medical consultation is advised for pediatric patient transports when emergency departments are on yellow alert," the website stated.
The diversion was lifted about 9:10 p.m., according to radio communications.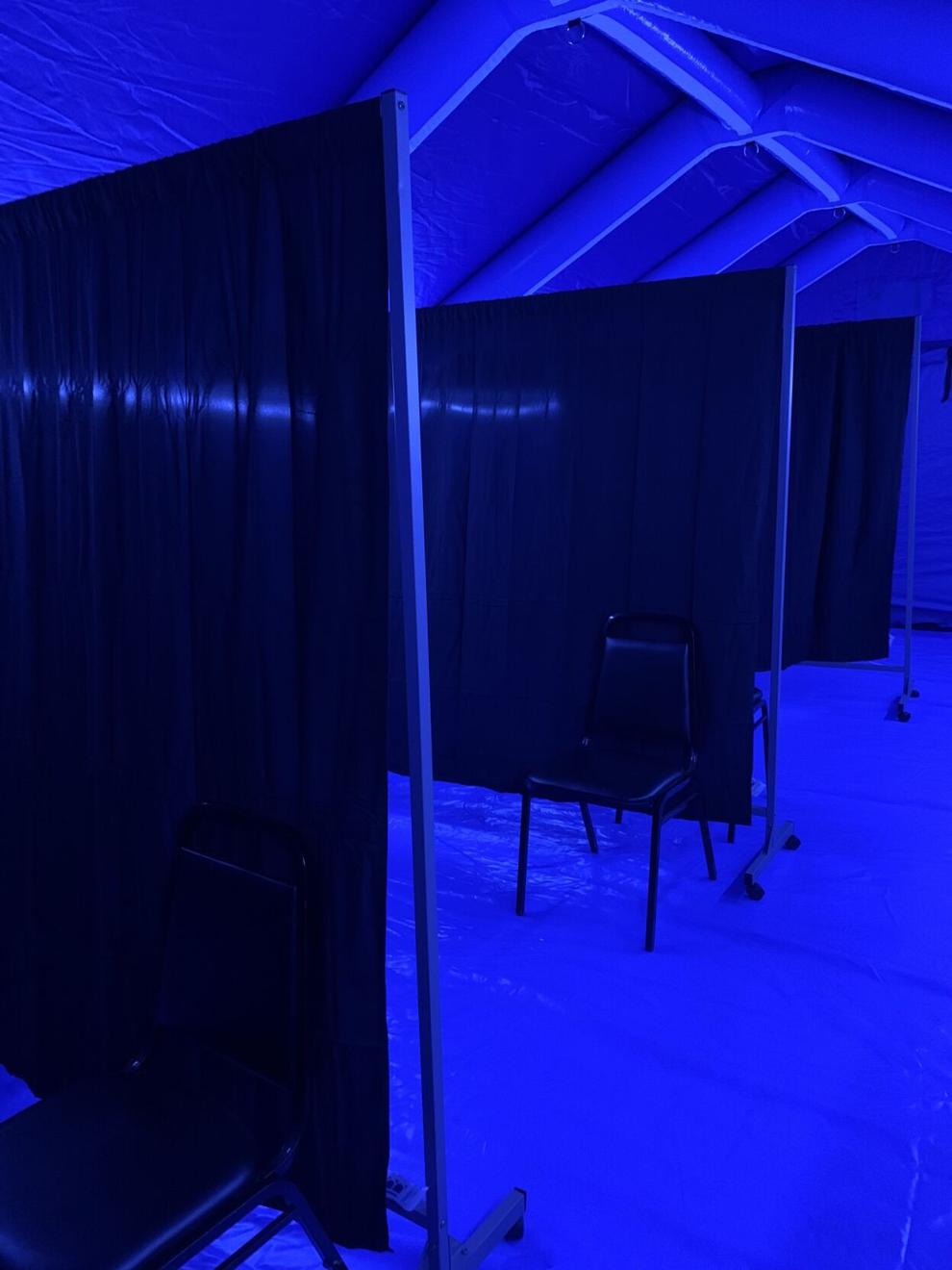 Few questions answered
Shortly after the initial diversion alert was issued, the Cumberland Times-News asked UPMC officials questions via email including:
• What caused the situation?
• What happens to patients that need to go to the hospital at this time?
• Will your urgent care facilities stay open for later than usual hours to help with patients in need?
• Where will opioid overdose patients go?
• Where will routine ambulance patients go?
• What determines when such an alert is generated?
• What is the COVID-19 status at UPMC Western Maryland? How many beds are available? How many patients do you have? Are you understaffed?
• Will patients be transferred within the UPMC system? If not, where will they go?
UPMC officials did not directly answer the questions and responded with the following statement:
"UPMC Western Maryland is currently operating under temporary EMS diversion. It is important to note this does not close the emergency department. When operating under diversion, all UPMC hospitals continue to accept any ambulance arriving on site, trauma, STEMI (heart attack), stroke and walk-in patients, and those with unique conditions suitable for treatment only at a UPMC facility. UPMC hospitals also routinely assist other facilities on diversion as needed when designated the nearest hospital for appropriate care."
The newspaper also asked the Allegany County Department of Emergency Services and Allegany County Health Department how the incident impacted their operations.
As of press time Wednesday night, neither organization had responded.
1 in 308
Allegany County's COVID-19 death rate per population is higher than the worst hit states in the country.
According to The Washington Post on Wednesday, roughly 1 in every 500 Americans have died of COVID-19.
The newspaper rated each state in the country, as well as the District of Columbia, and listed Mississippi and New Jersey as having the highest percentage of COVID-19 fatalities per their respective populations with approximately 1 death in 330 people.
As of Wednesday, COVID-19 had killed roughly 1 in every 308 Allegany County residents.
"Because our vaccination rate is so low, our county has the highest COVID-19 case rate in the state," Dr. Jennifer Corder, medical deputy health officer for Allegany and Garrett counties, said via press release Wednesday, at which time 43.3% of Allegany County residents were fully vaccinated against COVID-19, compared to 63.1% of all Marylanders.
"Do your part to allow Allegany County to move back towards normalcy," she said.
"We need our children to attend school and play sports, we need our businesses to be successful and we need health care workers to staff our hospital and medical offices," Corder said. "Vaccination is safe, effective, and the best way to turn this around."
ACHD on Wednesday reported 157 new COVID-19 cases and an additional death in the past 24 hours.
The Maryland Department of Health reported 1,189 new cases of the virus on Wednesday, 11 additional deaths and nine fewer hospitalizations across the state in the past 24 hours.
The seven-day moving average case rate per 100,000 people was 19.78 statewide, with Allegany County topping the list at 64.92, Garrett County at 39.88 and Washington County at 41.71.
The daily COVID-19 case rate was 4.54% statewide, with Allegany County at 11.55%, Garrett County at 14.93% and Washington County at 7.12%.
'Options for parents'
The Allegany County Public Schools Board of Education on Tuesday instructed Superintendent Jeff Blank to explore options to better educate students that can't be in classrooms for reasons including quarantine caused by COVID-19.
BOE President Crystal Bender and members Debra Frank and Tammy Fraley approved the motion, Vice President Robert Farrell and member David Bohn were against the move.
"Based on the numbers that we see today, and the trajectory of those numbers right now … there needs to be some options for parents that are uncomfortable in sending their child to school," Fraley said of concerns over issues including COVID-19 case numbers in the county and a state requirement for students to wear masks inside school buildings.
She also questioned a school policy that limits the number of excused absences for students that are quarantined "through no fault of their own," and sought to ensure students are not unfairly punished.
Blank said quarantined student absences are excused, but he didn't know whether the missed days impacted attendance records.
"I'll ask for direction from the state on that," he said.
Vaccinations, testing available
ACHD offers free, walk-in COVID-19 vaccinations on Wednesdays at 12501 Willowbrook Road, Cumberland.
From 9 a.m. to noon, the Moderna and Johnson & Johnson vaccines are offered.
From 1 to 5:30 p.m., the Pfizer vaccine is offered to people age 12 and older.
Anyone under age 18 must be accompanied by a parent or legal guardian.
Drive-thru COVID-19 testing is offered at the Allegany County Fairgrounds, 11400 Moss Ave., Cumberland, from 2 to 7 p.m. Mondays, and 8 a.m. to 2 p.m. Wednesdays and Fridays.
No appointment is needed, but pre-registration is strongly encouraged to minimize wait times at the clinic.
Pre-register for testing at health.maryland.gov/allegany and click the pre-registration link under "COVID-19 Information" on the right side of the page.
To learn more about COVID-19 testing and vaccinations in Garrett County, call 301-334-7698 or visit garretthealth.org.
"Vaccination is the absolute best way to prevent the spread of COVID-19 in our community," Jenelle Mayer, Allegany County Health Officer, said via press release Wednesday.
"Vaccines are available throughout our county at pharmacies, urgent care clinics, pediatric offices, the health department, and some primary care providers," she said. "We strongly encourage everyone to get vaccinated to protect themselves and those around them."