CUMBERLAND — John Michaels is a quadriplegic who works three jobs. He and his fiancé want to get married. A Maryland program, however, would make him choose to have either a caregiver, or a wife.
Michaels, of Frostburg, is enrolled in Maryland's Medicaid buy-in program, also known as Employed Individuals with Disabilities, which allows him to maintain his independence with Medicaid benefits while he's employed.
But it has strict rules on how much money he can earn and save. And because the program includes spousal income, if Michaels gets married, he will forfeit his Medicaid health, nursing and attendant care.
"I would lose all my medical benefits," he said. 
A federal program allows each state to set its rules for Medicaid buy-in. 
In Maryland, roughly 850 people are enrolled in EID.
'A new birthdate'
Michaels, 43, was 18 years old when he was injured in what he describes as a split-second decision he can never take back.
"On the night of my high school graduation, I was asked to turn the tassel of a young woman in a wheelchair," Michaels said of assisting his 1994 Beall High School disabled classmate. 
Two weeks later, he ended up in a wheelchair. 
"I dove off of a roof into a pool," he said. "You never think of the consequences until afterward." 
While the accident left him a quadriplegic, it also created "a new birthdate" and opportunity to start life over in a new way, he said.
"When I was 18, it was depressing not knowing what was gonna happen with my life," Michaels said. "I kind of learned everything on my own."
Perhaps the biggest lesson he gained was the realization that he could move forward and be happy.
"Your life's not over," Michaels said. "I led a beautiful life for 18 years. I'm leading a beautiful life now."
Nearly 20 years ago, he took a job as a part-time nursing home transition specialist at Resources For Independence. Today, Michaels is the full-time assistant director at the Cumberland facility. 
While working, he graduated from Allegany College of Maryland in 2008 with a degree in psychology and sociology. And in 2012, he graduated from Frostburg State University with a degree in psychology.
Today, in addition to his full-time job, Michaels sells durable medical equipment including catheters, works for the Arc of Frederick County and helps with funding for the modification of homes for people with disabilities.
"I work about 60 to 70 hours per week," Michaels said. 
He helped organize funding for a wheelchair ramp that was installed behind a Greene Street house over the summer.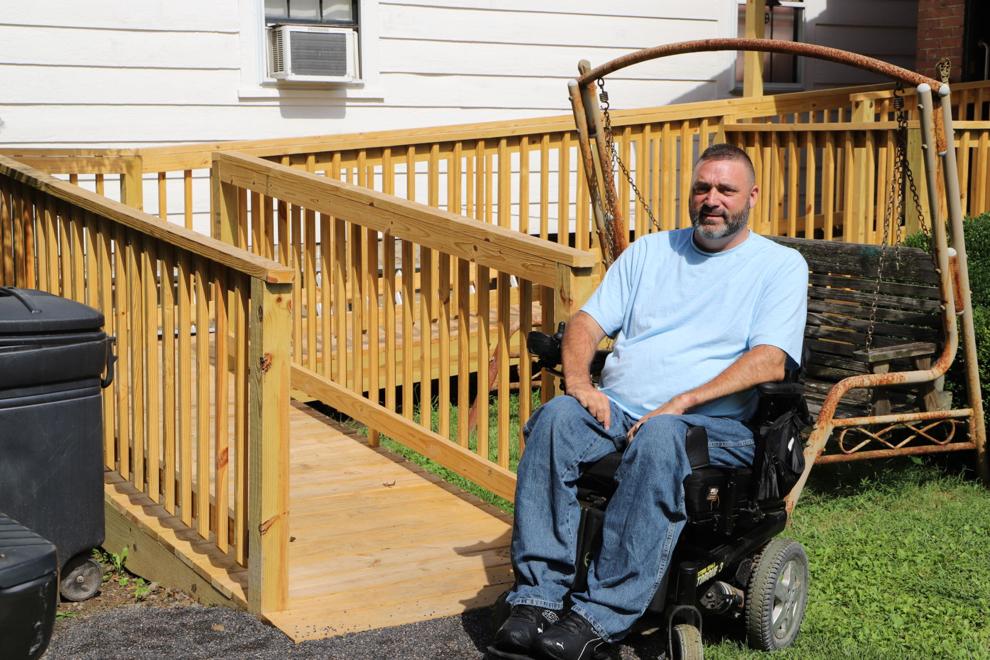 "Columbia Gas has been a big supporter," Michaels said. "They volunteered to build this ramp. … We just added the materials."
The projects typically face a two-year waiting list for state funding.
"There's more demand than money," he said.
Michaels also helps promote the annual Resources for Independence Golf Tournament that raises funds for projects needed by disabled people. The July event generated roughly $19,000.
"This was the biggest one yet," Michaels said of the ninth annual tournament.
'He needs his insurance'
Two years ago, Michaels and Frostburg resident Lori O'Haver became engaged. The couple have known each other for about 10 years and met when she was a urology nurse and he was her patient. 
She recalled her first impression of Michaels.
"He was handsome," O'Haver said. "Very outgoing, motivated."
Michaels "doesn't let anything hold him back," she said. 
O'Haver said it's not fair that Michaels would be penalized if they get married.
"My employer doesn't look at his income for my benefits," she said. 
However, Michaels' care is expensive and includes a new wheelchair every five years that can cost up to $50,000 and is only covered by Maryland Medicaid. 
Additional expenses include vehicle modification that can run up to about $100,000, as well as bills to see medical specialists.
"He needs his insurance that he has now," O'Haver said.
'It's so frustrating'
Fifteen states, including Massachusetts, Arizona and Arkansas, exclude spousal income from the program's limits.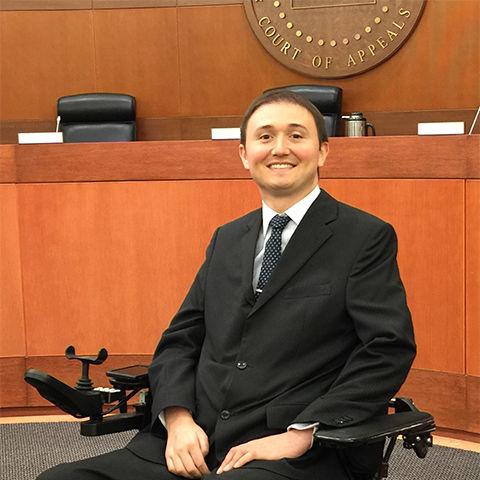 Maryland is not one of them, said Josh Basile, 34, of Bethesda. He is a Washington, D.C., trial attorney working with Michaels to change the income limitation rules in the state. 
Basile was on vacation with his family at a Delaware beach in 2004 when a wave slammed him headfirst against the ocean floor and left him paralyzed from the shoulders down. 
Months after his injury, he resumed his schooling and graduated from the University of Maryland College Park with a bachelor's degree in communication. 
In 2013, Basile graduated from the University of the District of Columbia David A. Clarke School of Law and passed the bar exam on his first try.
Despite Basile's long and successful record of accomplishments, he's had to turn down promotions and raises to keep his income below the Maryland Medicaid buy-in program's guidelines and keep his health insurance.
"I haven't been able to earn a dollar more than I did since I became an attorney in 2013," he said. "(The guidelines) tell you how successful you can be."
Basile has only enough limited movement in his right arm to control a motorized wheelchair. He requires nursing and attendant assistance every day for fundamental functions including to eat, shower and use the bathroom.
Like Michaels, Basile is also enrolled in EID.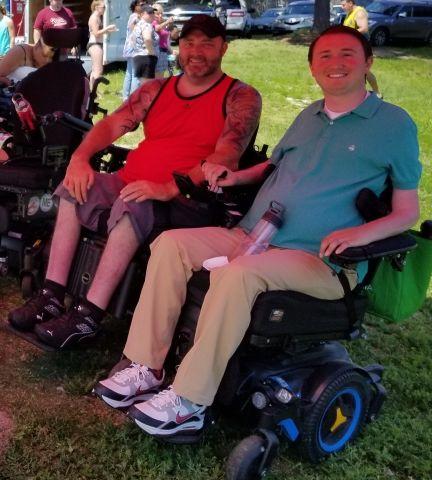 In Maryland, they can't have more than $10,000 at any time. That doesn't leave much money for a rainy day, Basile said.
"It can pour at any moment for a quadriplegic," he said. "Everything in our world is so expensive."
In addition to fighting income limits, Basile argues that health benefits apply to the Medicaid recipient, not their spouse.
"If you get married (in Maryland) you do get punished," he said. "It's just a really unfair narrative for somebody that wants to work to their full potential and marry the person they love."
The income limit for the Medicaid buy-in program in Maryland is 300% of the federal poverty level, he said. 
"If you exceed it, you get kicked out of the program," Basile said. "It's so frustrating how hard it is to navigate."
Additionally, under program rules, disabled people including Basile and Michaels will be forced to retire when they reach age 65.
Basile has discussed the problems with Gov. Larry Hogan and is encouraged by the administration's support.
He and Michaels believe change will happen, but they're not sure when.
To improve the EID program, Basile and other disability advocates created Willing to Work — a campaign to help Marylanders with disabilities work without barriers and limits, and without fear of losing their caregiving.
According to the organization's Facebook page, the nonprofit's mission is to:
• Improve Maryland's Employed Individuals with Disabilities program for people who want to work. 
• Expand Maryland's Medicaid buy-in programs to support working people with disabilities to reach their full potential and capacity in a career field of their choice. 
• Expand Maryland initiatives and policy reform to improve states across the country. 
• Mobilize the voices and stories of working people with disabilities.
Today, Carol Beatty, secretary of the Maryland Department of Disabilities, is working with Basile and Michaels to change the state's income rules. A work group has been designated to outline a solution to the problems. Once a plan is in place, the state's secretary of health would need to adopt regulatory changes.
"We want to use Maryland to make a blueprint (to show) how to do this," Basile said. "Every state is a little bit different."
'Life Rolls On'
Basile is also founder and president of Determined2Heal, which provides information, advice and resources for rehabilitative adventures for people with spinal cord injuries.
"We help simplify and empower the paralysis world," he said.
The organization includes an online platform, Spinalpedia, which provides information, including roughly 13,000 videos from hundreds of mentors, for people and families around the world that are affected by a spinal cord injury.
"Being paralyzed … you have to learn everything from scratch," Basile said.
Basile also founded Slingshot Golf, an adapted sport for folks of all spinal cord injury levels. According to slingshotgolf.org, "To hit the long ball a golfer or their caddie uses a hand-held slingshot and once on the green uses a putting mechanism of their choice to get the ball in the hole."
Michaels over the summer spent three days in Virginia Beach where he surfed in the ocean with the help of nonprofit organization Life Rolls On.
According to the group's website, it was founded by world champion quadriplegic surfer Jesse Billauer and is "dedicated to improving the quality of life for people living with various disabilities. Believing that adaptive surfing and skating could inspire infinite possibilities beyond any disability, Life Rolls On began as a splash into the unknown on September 11, 2001; achieved 501c3 nonprofit status in 2002; and now touches the lives of hundreds of thousands."
Basile's Determined2Heal contributed to the Virginia Beach activities and helped Michaels waterski, kayak and experience indoor skydiving.
Adaptive devices can allow people with limited mobility to experience many fun activities, Michaels said.
"This was the first time in 25 years that I was finally able to get back in the water," he said. "To say that I was emotional is an understatement."
The experiences were made possible with the help of thousands of volunteers, including physical and occupational therapists, Michaels said.
"It was an amazing weekend," he said. "Without the volunteers, none of this would happen."
Richmond, Virginia, resident Jenn Gray is an occupational therapist and one of the Life Rolls On volunteers that helped Michaels.
"It's just such a fulfilling and rewarding experience," she said of helping at the Virginia Beach event. "It puts life in perspective."
She praised the participants for their determination, perseverance and optimism.
"Getting out there and continuing to live … is so important," Gray said. "It's pretty special to see."