Floyd Wigfield is 100 years old and lives near Cumberland.
Jack Russell is 100 years old and lives in North Carolina.
They met for the first time recently in Virginia to visit someone neither has seen for 75 years — Russell's brother, Robert Russell, whose permanent address is Section 11, Site 550-SH, Arlington National Cemetery.
He was Wigfield's company commander on D-Day and will be 26 years old forever.
What do two old lions like Wigfield and Jack Russell talk about when they have three-quarters of a century of catching-up to do?
Nobody knows but them ... and their maker. They have earned a few minutes of privacy, and you respect that.
You don't try to find out what they say. You don't listen. You don't eavesdrop, and you don't interrupt or distract them.
You leave them alone.
So you watch from a short distance and remain silent as, for a brief time, they become young lions once more.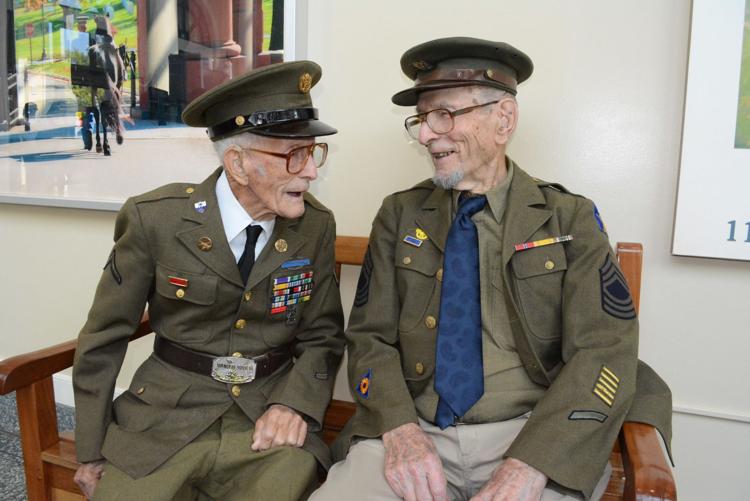 Capt. Robert Russell was company commander of G Company, 22nd Infantry Regiment, 4th Infantry Division of the U.S. Army, which landed at Utah Beach during the D-Day invasion of Normandy. Wigfield served in his company as a private.
Jack Russell was serving in the U.S. Army Air Force at Royal Air Force Station Shipdham in Norfolk County, England. He said he looked for 75 years to find someone who could tell him about the day his brother died. 
Wigfield was there when it happened. Jack Russell learned about him through a Times-News story that appeared on the 75th anniversary of D-Day and said he wanted to meet him.
The Times-News arranged for them to talk via Skype in June. They agreed to meet in person at Arlington sometime in the fall to visit Robert's grave.
'I'm very honored to meet you'
That happened Tuesday, and both men wore their old uniforms. Wigfield's bears the stripes of a private first class. Russell was a master sergeant when he left the Army.
Jim Combs is a mutual friend of Wigfield's and mine, and he drove to Arlington. Wigfield and his son, Steve Wigfield, Times-News photographer Steve Bittner and I rode along.
Wigfield brought flowers and a small American flag to place at his company commander's headstone. Jack Russell came north with his son David Russell, who lives in Virginia, bringing a large sepia photograph of Robert in his dress uniform.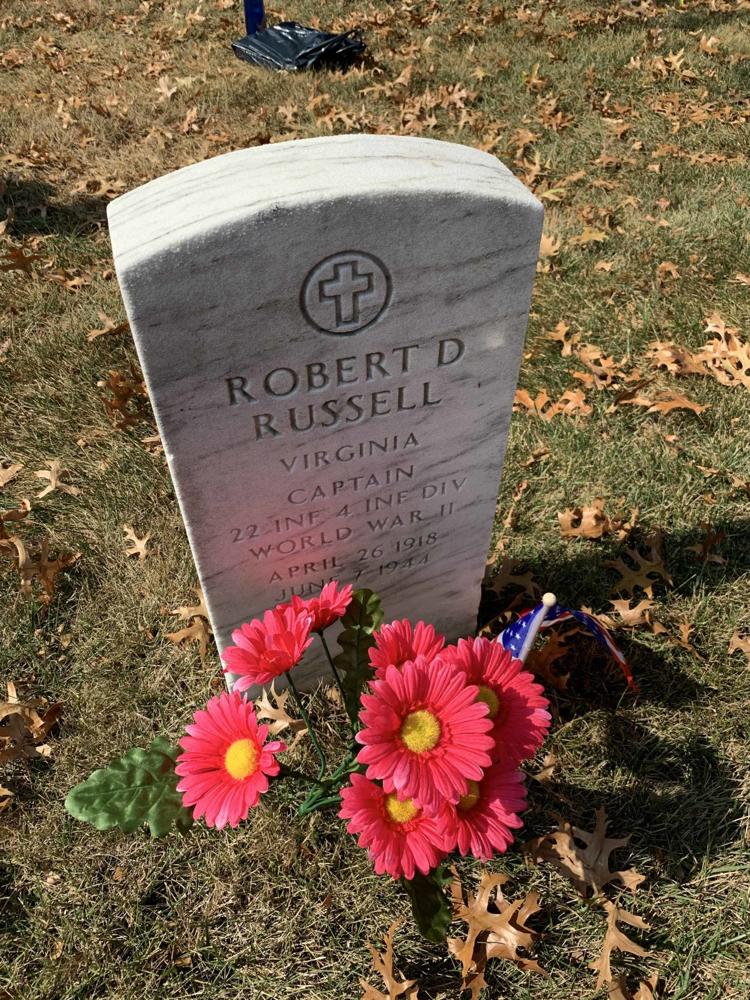 Russell and Wigfield began talking to each other as soon as they met in Arlington's Welcome Center and would continue to do so all day — when they had the chance.
They soon were surrounded by people of all ages who took their turn waiting to talk to them, have pictures taken with them, shake their hands, thank them for their service and America's freedom and — in some cases, particularly the women — give them a hug and a kiss on the cheek.
Bittner began taking pictures of them while I took down their names. We quickly realized there were too many to keep track of, so we decided that photos alone would have to suffice. A number of them, and a video, accompany this story on www.times-news.com.
One of the first was Janet Cox, who was visiting from Arizona with her husband, Ed. Before Russell and David arrived, she spotted Wigfield and went right to him.
"Wow!" she said. "You're so handsome, and I'm very honored to meet you," and hugged and kissed him on the cheek. She sat down next to him and started to get up and leave several times, but kept sitting back down — talking with him and wiping away tears with a tissue she clutched in one hand.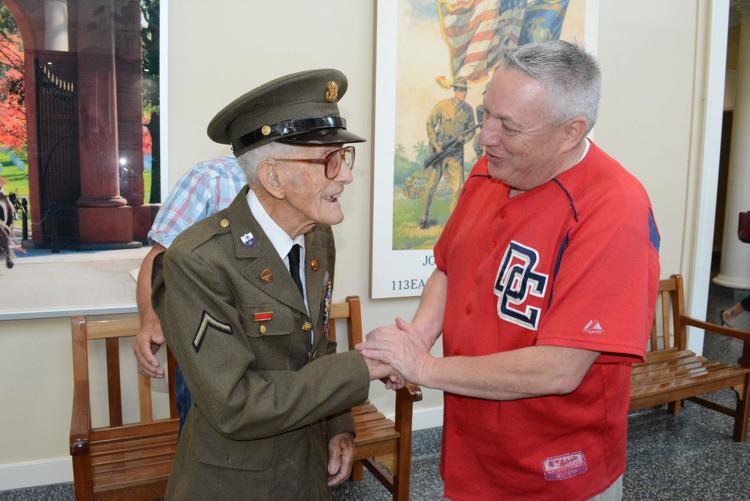 There were veterans and active-duty service members such as a pilot who served in Vietnam, a Navy man who was pleased that he knew what some of the ribbons on Wigfield's uniform represented — including the Purple Heart — and an active-duty staff sergeant in the U.S. Air Force who followed his father and grandfather in that service and asked Wigfield if that was his original uniform.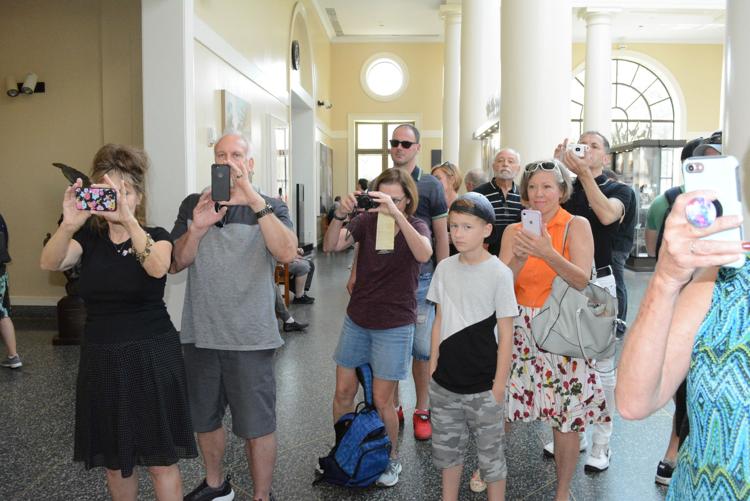 Wigfield said he bought it after he got out of the service, and the pants that came with it were the only pants he owned that fit him after he got home.
One man told Wigfield, "I could talk to you all day. If I took you to dinner, would you talk to me all day?
Wigfield said, "I'm not that hungry!" and that got a laugh from everyone around.
At Arlington, all are equal
Even if you've already been to Arlington, the vastness of the cemetery itself is powerfully moving. For those who are there for the first time, it can be overwhelming. Either way, you want to speak in a whisper.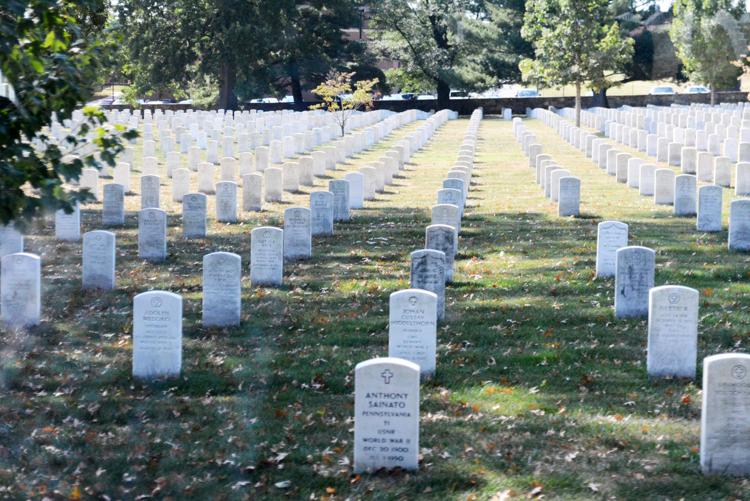 It's like going through the middle of a pine forest where all you can see are trees that are indistinguishable from one another — except that these trees are not tall and green. They are short and made of white marble.
Although other gravestones can be bought and paid for by families, most are government-issued markers that are provided free to some of those who have served their country. They are 2 feet tall, 4 inches thick, 13 inches wide and weigh about 230 pounds.
They give such information as name, rank, branch and time of service, dates of birth and death and list decorations such as Bronze Star, Purple Heart or Medal of Honor.
More than 400,000 are buried at Arlington, many having died while on active duty. An enlisted soldier, sailor, airman or Marine may be interred next to a general or an admiral. At Arlington, all are equal.
Except for the words that are engraved upon them, the headstones of General of the Armies John J. Pershing (commander of the American Expeditionary Forces during World War I), 1st Lt. Audie Murphy (America's most decorated soldier from World War II) and G Company commander Capt. Robert D. Russell are identical.
Those who take tours of Arlington ride shuttles that are like oversized open-air golf carts with canopies.
Others who wish to visit a certain grave ride an air-conditioned bus. Ours was driven by a polite, friendly man named Evan. He took us to the section where Capt. Russell is buried, told us how to find his grave and said he would return for us after a while.
Wigfield knelt before his captain's headstone to imbed his flowers and flag in the soil, then stood next to Jack Russell. They saluted and turned away.
Russell gestured toward the headstones that surrounded us and said, "When you think about the circumstances in which these men died, it's very peaceful here."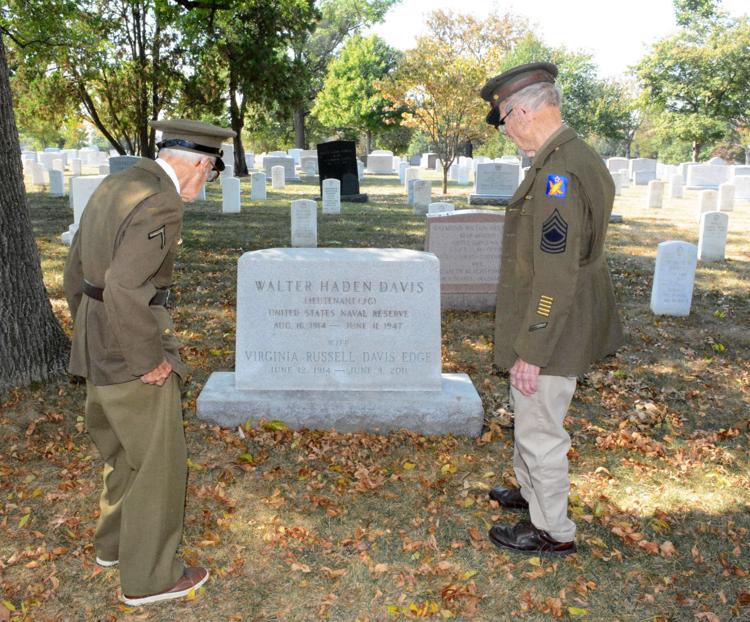 Wigfield observed that it didn't matter where you were standing or the angle with which you looked at the headstones, they were arranged in perfect rows. Even the trees, which were evenly spaced and a good distance apart, were aligned that way.
"That's an ash," he said, indicating one nearby. Then he pointed to an oak, a hickory, a maple and a walnut. Even from a distance, Wigfield knows trees because much of his century on Earth was devoted to hunting turkeys and other wild game.
He had talked about that on the way to Arlington and said he once spent more than an hour calling in a turkey so his buddy could shoot it — but his buddy missed it.
'We were inseparable'
Once more, Russell thanked Wigfield for talking to him about Robert and saying what a good commanding officer he was.
"He (Robert) was a year older than I was," Russell said. "We grew up together. In our childhood days, we were inseparable. We ate, slept and played together. He was a wonderful brother."
Robert was killed by a German sniper on June 7, 1944, the day after D-Day. The last word he said was, "Medic!" Wigfield said that even if a doctor had been present, nothing could have been done to save him, but that he hadn't been in any pain.
He said it was a wonder the Germans didn't kill him, too, because they were all around — in the trees and hedgerows where nobody could see them — and were shooting at him and everyone else.
"Bullets were flying everywhere," he said. "I still can't really believe it happened the way it happened."
Wigfield said he took cover behind a big rock, and when he tried to leave its shelter the German bullets began cutting the leaves and blades of grass around him, so he ducked back behind it and stayed there.
"It was a terrible day, with everything that was going on," he said.
A history lesson
More was in store for the old lions when they returned to the Welcome Center.
What had been a visit to the past became a foray into the future ... a future that could be seen in the faces of a group of young schoolchildren and their parents from Atlanta.
Steve Gilchrist, the teacher, asked if they could spare a few moments for him and his students — some of whose grandparents might not yet have been born when Wigfield and the Russells were in Europe, half a world away from their families.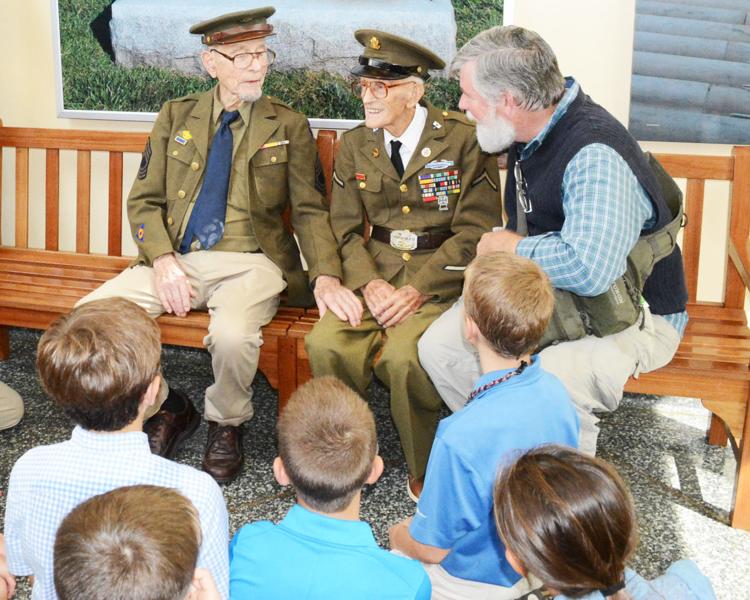 Gilchrist said he had followed the news coverage of the 75th anniversary of the D-Day landing and told Wigfield he had seen him on television. Wigfield was there at the invitation of President Donald Trump and prominently visible.
Wigfield told them — as he has told many others — about sitting next to French President Emmanuel Macron, and that Macron's wife, Brigitte, kissed him.
Gilchrist said he had been riding on a bus in France when a Frenchman heard him and his companions speaking in English and realized they were Americans.
He said his command of French wasn't very good, but he understood the Frenchman when he told them "Thank you very much for what you did at Normandy."
Gilchrist asked Wigfield and Russell if they had anything they would like to tell his students, who were gathered in as close as they could get and hanging on every word they said.
Wigfield said he never understood why the Germans didn't surrender, knowing they were beaten, to prevent the death, misery and destruction from continuing. Gilchrist replied that Wigfield had given him and his students something they could talk about for at least two days.
Russell said they should believe in the help they can get from someone else. You can't do it all yourself, he said, and you have to work with other people. This was something he learned while in the Air Corps, which needed teamwork at all levels to keep American warplanes flying the missions that would help defeat Germany.
America's past and its future met briefly in the form of two men who once went to war against the worst that humanity can become, and another man who has devoted his life to helping mold what someday may be the best that humanity can become.
It happened at the place where, more than anywhere else in our country, everyone can go — and should go — to experience the sheer magnitude of what we often refer to as "The Price of Freedom."
When you do go, you will get a hint of just how many Americans appreciate those who have paid it. We did, and there were too many of them to count.