CUMBERLAND — The Maryland Department of Natural Resources on Tuesday reported that 25 white-tailed deer in Allegany and Washington counties during 2018 tested positive for chronic wasting disease, a neurological infection found in deer and elk.
The positive cases were among 561 samples collected in the state's three most western counties.
Twenty-two of the positive samples came from the CWD management area that includes Allegany County. Three samples were from the adjacent Washington County Harvest Management Unit 251. No cases were found in Garrett County.
In 2017, 749 deer were sampled in the same area and 10 tested positive for CWD.
"The number of positives has increased, almost doubled," said George Timko, assistant deer project leader for the state's DNR, of 2018 versus the previous year's cases.
While the official testing is now limited to Western Maryland, reported sick deer from across the state, including those taken during hunting seasons, continue to be sampled, he said.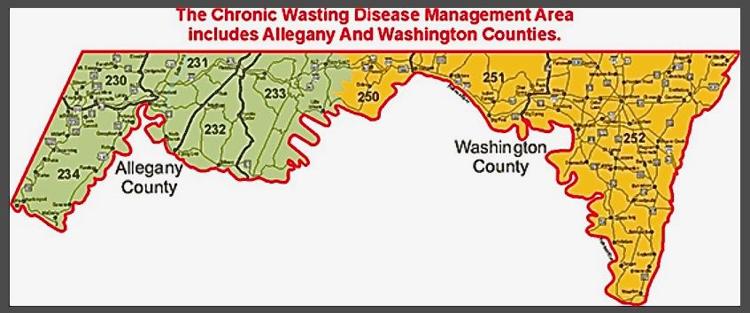 Lack of funding
The state began to research the disease in the 1960s.
Today, "there's no money for (CWD) research in Maryland," Timko said. 
Hunting license profits, matched with federal dollars, make up roughly 85 percent of the state's DNR budget.
"Our funding is going down all the time," Timko said.
Lack of funding also means Maryland must rely on the Pennsylvania Animal Diagnostic Laboratory System in Harrisburg, Pennsylvania, for CWD testing.
"They're the closest, most accessible," Timko said. "We can drive samples to Harrisburg."
Depending on the number of samples to be tested, Maryland pays PADLS roughly $9,000 to $10,000 per year for the service. That fee only covers the lab costs and doesn't include Maryland DNR staff time, transportation, talking to hunters and other tasks associated with CWD, Timko said.
Other test methods 
Some states use an enzyme-linked immunosorbent assay to test deer in the field. But, the results might be questionable.
The Clarion Ledger in Mississippi reported in March that "a deer collected there in the 2018 season tested positive three times using the (ELISA) test at an in-state lab. But when the sample was sent to an out-of-state lab using the (immunohistochemistry) test, the results came back 'not detected' multiple times. A third test method, western blot test, was used and it also did not detect CWD."
Because the ELISA test requires fresh samples that would need to be refrigerated between collection and lab evaluation times, it would be difficult to use, Timko said.
"It's just not a reasonable or practical (test) for our staff," he said.
Testing history
Maryland's DNR has tested deer for CWD since 1999, and more than 10,000 of the animals have been tested to date, according to Tuesday's press release from the organization.
CWD was first confirmed in Maryland in February 2011. The Maryland cases appear to be from an outbreak in 2005 in adjacent West Virginia private lands. Since then, Maryland, Pennsylvania, Virginia, and West Virginia have all documented chronic wasting disease in the region. The latest findings bring the number of positive cases in Maryland to 52, the release states.
"Unfortunately, but not surprisingly, chronic wasting disease has continued to spread regionally and nationally," Wildlife and Heritage Service Director Paul Peditto said via the news release. "Fortunately the disease has remained confined to deer and to a localized area in Maryland. The department will continue to use the best science available to minimize the impact on our deer population and the people who enjoy this valuable resource."
Continued research confirms that this disease cannot be naturally transmitted to humans, "so hunters and others who enjoy venison should continue to eat deer meat and to pursue their popular outdoor pastime," the release states. "As a general safety precaution, it is recommended that people avoid consuming the meat of sick or infected animals as well as the brain, lymph nodes, or spinal column of any deer — all of which are normally removed during the butchering process."
Crossing lines 
In addition to being in 24 states, CWD has been found in Canada, Korea, Finland, Norway and Sweden.
Last month, Jim Crum, a West Virginia Division of Natural Resources biologist who deals with CWD, said a sample that tested positive for the disease was found last year in Mineral County, West Virginia, and was the westernmost detection in that state.
At that time, Crum via email said exact locations are not provided "as to not (violate) verbal agreements between the (West Virginia Division of Natural Resources) and successful hunters and/or landowners."
However, he confirmed a case near Short Gap, West Virginia, close to the Maryland border "is the furthest north detection in (West Virginia)."
CWD has spread "pretty big in those surrounding states … in a short period of time," Timko said.