The Maryland Fisheries and Boating Services, an arm of the Department of Natural Resources, is considering making the possession of brook trout illegal in much of the state.
Potential regulations are for the good of the brook trout, according to Dan Goetz, statewide operations manager for the Freshwater Fisheries Program.
Brook trout populations are dwindling throughout Maryland, with the exception of the Savage River drainage, according to a report the agency has created, although the decline is greater east of Interstate 81 in Washington County.
The plan as of now is to ban the possession of brook trout anywhere east of that highway. West of the highway, which includes all of Garrett and Allegany counties and a portion of Washington County, brook trout could not be kept by anglers fishing in put-and-take trout streams.
In 2007, the agency prohibited the keeping of brookies in the Savage River drainage upstream of the Savage River Reservoir. If the proposals become regulation, anglers in Western Maryland would still be allowed to keep brook trout as long as they are not from the restricted portion of the Savage River drainage or from a put-and-take trout stream. The two-fish limit would be in effect.
Goetz said Jan. 1, 2021 is the date in mind for the new regulation. Anglers have until May 25 to comment by sending an email to fisheriespubliccomment.dnr@maryland.gov.
Details about the concept can be read at https:dnr.maryland.gov/fisheries/Pages/regulations/changes.aspx.
Goetz says put-and-take streams are sampled periodically to determine brook trout presence.
Estimating how many of those brookies get caught is a little less scientific.
"We do know, from angler reports, that brook trout are harvested from put-and-take areas. Estimating how many brook trout are harvested from each stream would involve very costly creel surveys in each put-and-take area," Goetz wrote in answer to emailed questions.
A survey seems to show that most anglers favor additional protection of brookies.
"Of 999 responses received from trout anglers, 85.7 percent wanted more restrictive regulations on brook trout, with catch-and-release being the preferred option," Goetz wrote.
About 125,000 brown and rainbow trout are stocked in Garrett and Allegany counties. The idea with put-and-take fisheries is just that, of course, hook 'em, keep 'em, eat 'em and burp.
Brookies are too few and too valuable to become table fare, according to the agency. I'm paraphrasing.
Anglers fishing put-and-take trout streams use bait such as salmon eggs and earthworms. Those baits are often in the stomach or gullet or perhaps the gills by the time the angler feels the bite and sets the hook.
"We acknowledge that some level of catch and release injury/mortality will occur. However, that can be minimized through proper fish handling techniques," Goetz wrote.
Lip-hooked brookies should be handled gently, unhooked and returned to the water. Those that have been hooked deeply should have the line cut as close to the mouth as possible before being released.
"Results from our recent five-year statewide brook trout survey (2014 - 2018) indicated that we lost 15% of our brook trout populations in western Maryland. This loss occurred between 1987 and 2018. We also saw declines in central Maryland near 50% which is why we are proposing catch-and-release in all waters east of I-81," Goetz wrote.
The prohibition of the use of bait and the keeping of brook trout in the Savage River drainage began in 2007. Since then, "the upper Savage River has maintained statistically significant greater brook trout densities for each year of monitoring following the regulation change," the agency report stated.
My friend Wes Powell fishes more than anybody I know. Wait. I probably should simply have said that he fishes more than anybody. That's not provable, but I'd bet on it.
Powell targets put-and-take trout streams. He said the most recent time he caught a brook trout in one was three years ago in Evitts Creek above Union Grove. Even farther back, Powell remembers catching brookies in Wills Creek in The Narrows downstream of Braddock Run's entry.
There are much greater dangers to native brook trout than anglers, of course, including forestry and agricultural land practices, water temperature and pollution.
"We are finalizing a conservation plan that utilizes a three pronged management approach; Resiliency, Protection, and Reintroduction. Our conservation plan will focus on targeting habitat restoration efforts in our most resilient watersheds to help ensure future survival," Goetz wrote.
"This proposed regulation would fall under the Protection management strategy. The conservation plan will take time to effectively improve brook trout populations across the state. Regulation is the only immediate management action we can take now to reduce loss."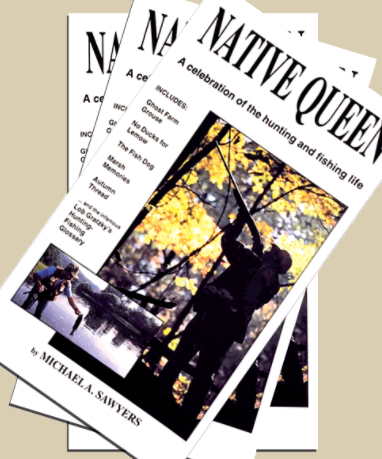 Mike Sawyers retired in 2018 as outdoor editor of the Cumberland Times-News. His column now appears every other weekend. To order his book, "Native Queen, a celebration of the hunting and fishing life," send him a check for $15 to 16415 Lakewood Drive, Rawlings, MD 21557. The native queen, by the way, is a large female brook trout.