UPDATED: SOUTH CHARLESTON, W.VA. — In an effort to protect the public from the spread of the coronavirus, the West Virginia Division of Natural Resources has canceled sectional meetings on proposed hunting and fishing regulations scheduled for Monday and Tuesday.
Prior to this action, meetings were to be held in Fairmont, Martinsburg, Milton, Princeton, Spencer and Summersville on March 16 and Buckhannon, Fayetteville, Glen Dale, Logan, Moorefield and Parkersburg on March 17.
Hunters and anglers who want to comment on proposed regulations may download a questionnaire at www.wvdnr.gov. The questionnaire is labeled "2020 Sectional Meeting Questionnaire" under the Hunting and Fishing headings. Copies also are available at DNR district offices.
All comments should be mailed by April 3 to:
Keith Krantz, West Virginia Division of Natural Resources, Wildlife Resources Section, P.O. Box 67, Elkins, WV 26241
Hunters and anglers with additional questions, should contact their district office or the main office in South Charleston at 304-558-2771.
ORIGINAL POST:
If hunting regulations being proposed by the West Virginia Division of Natural Resources become realities, there will be additional opportunity for Mountain State nimrods during the 2020-2021 seasons.
Hunting on Sundays has been legal on private and public lands for a couple years now and wildlife officials have seen that as an opportunity to bump the window of participation up just a little more.
The rifle season for deer, which has always ended on a Saturday, would be extended by one day and end on a Sunday, thus giving 30-06 toters one more morning to get up early and head out for the stand or blind or to wear out boot soles a bit more.
If your county also allows bear hunting during the buck rifle season then the bruin hunt would be extended one day as well.
The same sort of ending would be in store for fall and spring turkey seasons. Instead of ending on a Saturday, they would end a day later on a Sunday.
Speaking of turkey hunting, here is the proposal that makes me smile.
I have always had more success hunting spring gobblers toward the end of the season. It's probably because most hens have retired to nests and are sitting on eggs, but gobblers are still looking for love and respond to the noises I make on my callers.
However, when the agency's natural resources commissioners moved the opening day of spring gobbler season up by one week in 2015, that also moved the ending of the season up by one week, eliminating my favorite segment. Well, DNR has crunched the harvest numbers and come to the conclusion that adding a fifth week to the season would once again provide that late May opportunity without having a bad effect on turkey populations.
And, because of the Sunday season ending that would replace the Saturday season ending, the hunt would jump from a 27-day affair to a 35-day shindig in the spring of 2021.
Yes. Do it.
Anyway, the annual meetings during which hunters can interact with biologists and provide thoughts about proposed regulations are 6 to 8 p.m. events of the open-house style and include:
• Monday, March 16, Martinsburg Holiday Inn (Interstate 81 Exit 13)
• Tuesday, March 17, Moorefield, South Branch Inn (U.S. Route 220 and Corridor H)
Written comments will be accepted until April 3. The proposals and information about how to submit comments is available at wvdnr.gov.
There are some other tweaks and rubs being suggested, but only a couple seem to pertain to the Potomac Highlands region.
The doe bag limit on the western side of Mineral County would be increased to one.
Using lights to hunt coyotes at night would become legal all year long, with the caveat that such hunting from Sept. 1 through Dec. 31 be legal only on private lands and only after hunters have notified West Virginia Natural Resources Police so that officers won't mistake coyote hunters for deer poachers.
A separate effort by DNR will take place at the meetings and beyond to determine hunters' thoughts about the state's dwindling ruffed grouse populations.
A shortening of the grouse hunting season is being considered and agency biologists will be asking hunters to help determine which part or parts of the season would be eliminated.
DNR apparently was not alarmed by a notable decline in the rifle buck harvest in 2019, attributing that drop to a late beginning of the season when most rutting activity was winding down. Thus, deer bag regulations remain mostly unchanged in the proposals.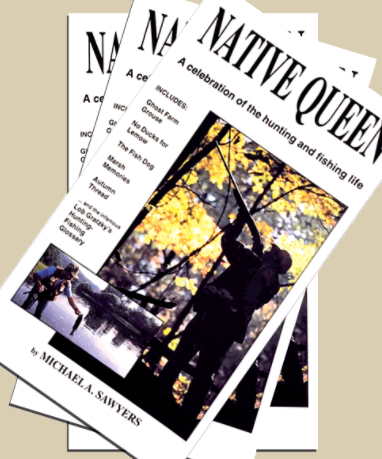 Mike Sawyers retired in 2018 as outdoor editor of the Cumberland Times-News. His column now appears every other Sunday. To order his book, "Native Queen, a celebration of the hunting and fishing life," send him a check for $15 to 16415 Lakewood Drive, Rawlings, MD 21557.